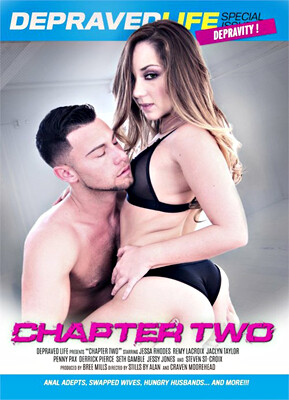 Four slightly to rather twisted tales, all featuring very fuckable young women, with (one of my favorite porn starlets) Jessa Rhodes in two (yes!) of 'em.
Jessa wants one last fling with someone, who turns out to be her married friend Derrick (Pierce), in a blistering opener. While Jessa may have augmented tits, they look fab. As does her ass. As does her face. As does every fucking thing about her! Her fucking and sucking are pretty damn good, too. After Pierce worships her pussy, Jessa does a great job o' sucking his prick to the bone while getting face-fucked (plenty of marvelously disgusting sounds and oodles of spit); followed by reverse-cowgirl, more cocksucking, cowgirl (some terrific cheek action care of Rhodes' killer ass), missionary, doggie (a movie high point with such an incredibly juicy butt on Rhodes), and a generous donation of Derrick dick-snot upon Jessa's pretty face. By the way, the scene does have a slight twist ending, thus working into the whole Depraved Life theme, so there ya go.
Remy Lacroix's male neighbor, Seth Gamble, helps her get into the whole anal thing (per his wife's suggestion; what a lucky bastard!), more or less prepping Lacroix for her own husband (who apparently has a huge cock), in one of the movie's nastier sequences. Remy is another bitch with a rather juicy body, while also giving a fairly deep BJ. She and Gamble avoid her cunt and go right for the anus, with cowgirl being the first position, and Remy not at all shy about ATMs. Spoon anal is next, followed by doggie anal, followed by Seth blasting Gamble goo all over her butt-a-roo. Way ta go, Seth!
Jessy Jones psychologically tortures his girlfriend, Penny Pax, in a non-sex role (at least, initially I thought it was), after he catches her cheating on him, by tying her up and turning the crying wench into a cuckold before her eyes as he slams the hell outta Jaclyn Taylor, making for one strange yet delightfully salacious scene, seeing as Taylor is such a choice-looking tramp. Jaclyn is wonderful at getting her tonsils blasted out during an animated BJ, after which she climbs aboard Jessy's joint and vigorously rides him cowgirl style (love the fact that she keeps her garters on), followed by reverse-cowgirl, missionary, (standing) doggie, with Jess ultimately coming upon Penny's face, so I guess Pax does, actually, do a bit o' sex here.
Lastly, Steven St. Croix's on-screen daughter invites a homeless chick, played by (the returning) Jessa Rhodes (who hardly looks homeless, trust me, but seems to have ulterior motives, indeed), with the two eventually burning up the sheets. There really isn't a bad pole position with Rhodes, though my faves are spoon (giving us a nice view of Rhodes' especially nice fucking bod), doggie (can't get enough o' that rockin' Rhodes rear), and, of course, her amazing deepthroat talents.
These four stories work well thanks to the good acting, absolutely good looks and delightfully depraved antics of its three starring women, particularly the always-welcome, always-awesome Ms. Rhodes, whom you definitely don't wanna miss.
Synopsis:
Jessa Rhodes deep throats Derrick Pierce's cock and ball sack making it moist before jumping on his cock in reverse cowgirl position. Remy LaCroix had a lot of time to think about easing Danny into having anal sex. Adriana proposes that Remy has anal sex with her husband Seth Gamble since his cock isn't as big as Danny's. Jaclyn starts to fuck Jessy right in front of Penny, taking his huge cock into her warm hungry mouth, all while Penny screams, that what they're doing is wrong. Jessa Rhodes seduces Steven St-Croix as he apologizes to his dead wife, relishing every perfect inch of her rough and tough body to the accompaniment of her seductive moans.