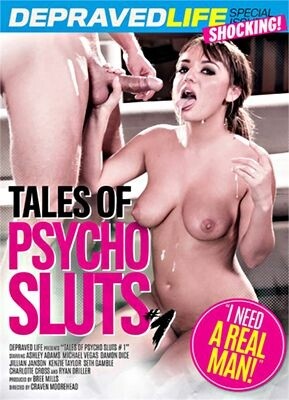 Actually, it's the guys in two of these four stories who go psycho on us, while the four girls featured range from opportunistic vixens (Jillian Janson & Charlotte Cross), to totally submissive tramps (Ashley Adams & Kenzie Taylor, respectively). In fact, the title of this terrific anthology from Depraved Life Productions could have easily been "Tales of Hot-Lookin' Slut Bitches" and you wouldn't have lost a beat — of yer meat.
To start things off, Ashley Adams plays a self-involved airhead — albeit, a very fuckable one, willing to do anything — who has her Lyft driver, Michael Vegas, take her all over the Valley to the point where (after he finds out that her credit card is rejected) he grudge-fucks the livin' daylights outta her. I mean, Vegas truly goes nuts on her (in more ways than one!), ravaging her in the back of his SUV, at night and up in the hills; with our boy banging the tonsils out of Ash's mouth, while boring her cunt undoubtedly to a point of soreness (for his dick and her twat). The best position is, in my view, missionary, as you get to see plenty of Adams' choice body, with her fine tits swirling around.
Next, the gorgeous, scrumptiously curvaceous Jillian Janson plays the pissed off girlfriend of a loser who'd rather watch football than fuck this amazing piece of ass, with Janson ultimately burning up the sheets with her boyfriend's way smarter bud Damon Dice. This scene is surely the most scorching in the movie, with Janson never appearing in a bad position, though my faves include cowgirl (awesome butt-revolving action) and doggie. Jill also gives, like all the girls in this flick, a killer deepthroat of a blowjob. Repeatedly!
Seth Gamble plays a police detective who, foolishly, releases a babe, Kenzie Taylor, who he feels was wrongly arrested; not long afterwards, however, Taylor starts, supposedly (we're never quite sure) stalking him by letter and phone, to the point where Gamble goes bananas and, like Vegas with Adams earlier, throws a righteous grudge-fuck into the fetching twat. Gotta say that I love Kenzie's big augmented boobs and 1950s-looking glam hotness. She's also a luscious whore who likes getting it hard and rough, with Gamble more than willing to ass-ist her in this cunt-text. Cowgirl and doggie totally rock, with Taylor giving truly filthy, to-the-bone suck-offs to our boy Seth. Lucky bastard.
Finally, Ryan Driller plays the son of a mobster who's blackmailed into heatedly fucking his pop's younger trophy wife, Charlotte Cross, or else she threatens to blow the whistle on whistle-blower-to-the-Feds Ryan himself. Cross is another thoroughly juicy babe, and she's flaunting a magnificent set of all-natural boobies. Her equally tasty ass is best viewed, in all of its fleshy roundness, jiggling like mad during doggie, while her spongy but equally firm breasts are best viewed doing the same during rotating action during missionary and spoon. Additionally, she's quite the cock-gagger. Wonderful whore!
"Tales of Psycho Sluts" is c(h)ockfull of intensely filthy, sexy-looking slatterns who burn up the small screen in engaging stories of raunchy revenge. One helluva nasty quartet o' vibrantly vice-laden vignettes!
Synopsis:
Ashley Adams is ready to go out with her friends with plans to fuck the guy she's been fantasizing about forever. She calls her driver Michael Vegas but is rude and preoccupied on her phone when he asks her destination. From one place to the next they end up in the backwoodsJillian Janson and her boyfriend argue to the point where she's had enough. She needs a real man to satisfy her needs and get the attention she deserves. Who better to help her out sexually than Damon Dice. Sergeant detective Seth Gamble suspects something is wrong with a case file belonging to perp Kenzie Taylor who was arrested last night by a SWAT team pending psych evaluation. Stepmother Charlotte Cross is soaking in the tub when her stepson Ryan Driller enters the chic Las Vegas condo. She doesn't flinch when he walks into the bathroom and shuts off the faucet. Ryan comments that she looks awfully calm considering his father is sitting in prison under federal investigation.