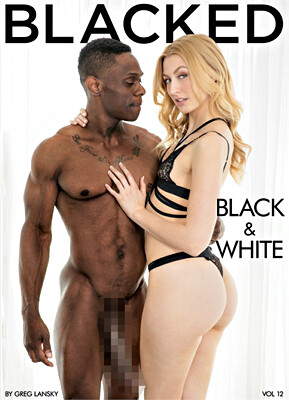 Director Greg Lansky has done it again with choice white bitches getting banged by big, black boner in four scalding scenes of interracial salaciousness, featuring girls who love every greasy inch of BBC!
Tall drink o' water Alexa Grace plays a groupie who hooks up with an onscreen celeb, Julio Gomez, possessing the biggest black cock I've seen, with Alexa showing what a wondrous whore she is, as she takes that ebony monster as best she can in mouth 'n' muff. Alexis, for the record, not only has a delicious body, but is also quite pretty, making it all the nastier seeing her act in such a lewd manner (think: what do real-life fashion-runway models actually do behind the scenes?). Julio does, indeed, stick at least half of his third arm in Alexa's sopping snatch during missionary, ditto for cowgirl, the latter position giving us a nice peek at Alexa's sweet anus. And I love the fact that, while most girls might, literally, push back to avoid such a huge hose drilling 'em too deeply during doggie, Alexa just lets it happen. Love this filthy fox!
Dredd, an older black dude with dreadlocks and a massive slab o' dark meat, plays an on-screen sugar daddy who porks the livin' hell outta cutie Kimberly Brix. I dig how luscious lil' Kim is, and how she does her damndest to shuck down Dredd's donkey-sized dong. Cowgirl gives a steamy shot of Kim's culo, while her gelatinous butt cheeks jiggle (yeah!) like mad, and Dredd drills her like this for a (double yeah!) good long time! Doggie is just as blindingly brilliant, with Kim enjoying a few smacks across her righteously round rump, while mish gives us an all-around better shot of Brix's soft and scrumptious bod. She eventually takes Dredd's splash o' sperm on the chin like a true champ of a tramp, too. Good girl!
Blonde pixie Elsa Jean is one of the cutest things in porn today, and seeing her take on a BBC like Jason Luv is totally awesome. I just love viewing Jean in a pair o' tight blue jeans. She doesn't even need to be wearing high heels, that's how killer her body is. Anyway, after a handyman at Elsa's parent's home spills paint all over himself and helps himself to their shower (her parents aren't home, by the way), Elsa walks in on the bastard washing himself off, can't help but notice massive black stick dangling from his body, and soon is on her knees sucking said long, thick prick. She's a damn good oral cock-socket, too! Magnificent eye contact from Else, as well. And watch how Jace at one point starts face-fucking her. Whew! I like how Jean simply takes her time sucking and fucking. No hurry for her. Cowgirl is amazing, with Jean's lovely fucking ass cheeks shimmering from sweat, lube, whatever. Reverse-cowgirl lets us fully view that outrageously tight and slinky Jean bod; and her butt cakes are even greasier during doggie, with Jace really slammin' it on home. Elsa likes to kiss, too, which adds to the erotic heat of the scene, particularly during missionary, after which we have a welcome return to doggie, followed by a hefty splat o' sperm to Jean's pretty face, Jace suck-cessfully cocooning her right eye. Here's lookin' at ya, Else, ya drop-dead pretty bitch ya!
Playing sorority sisters, the ever-juicy Kylie Page (who also happens to be absolutely gorgeous) and Hadley Viscara hornily take on Jax Slayher and Nat Turnher, playing two college jocks — along with their enormous cocks — in the movie's grand filthy finale. Kylie starts off nastily sucking off Jax, before Had and Nat join in on the freaky fun. Had sucks on Nat, Kylie on Jax (witness the girls' eyes water as they try to stuff these boner-beasts into their cake holes), before the two girls switch places, and we get some amazing cowgirl humping, during which Kylie and Hadley's award-winning butt cheeks are highlighted. Doggie is just as awesome! Delish tits on both gals, by the way, which we see all the better (bouncy! bouncy!) during reverse-cowgirl. For some reason the young lassies keep going back to cowgirl, and, hey, I'm not complaining. It's the shit! Jax ultimately creampies Had during cowgirl (nass-tay!), while Nat sprays splooge all over Kylie's cute-as-a-button kisser. Fantastic!
Yep, there ain't a bad scene/slut in this quartet o' volcanic interracial reaming and creaming; it's just hard to choose which girl you wanna blast off to: Alexa, Kimberly, Elsa, Kylie, Hadley ... what a smorgasbord o' sweet white meat! Yum!
Synopsis:
BLACKED.com and Director of the Year, Greg Lansky, proudly brings you Black and White Vol. 12! The award-winning series returns with another scorching line up of beautiful models having IR sex. Cover model Alexa Grace plays a fan hooking up with her favorite artist after a show. Little does she know, but he has the biggest BBC in the world! Also featuring performances by Kimberly Brix, Elsa Jean, Kylie Page, and Hadley Viscara. With BLACKED.com's unparalleled production value and storytelling in full display, Black and White Vol. 12 is a collection that will leave you breathless!