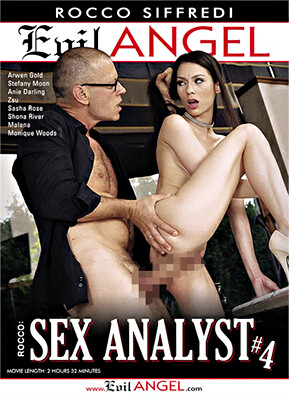 Russian, Hungarian and Italian babes, ranging from 19 to (get ready) 69 (!) get probed and plastered by lucky Euro pricks in this volcanic in-and-outing from Italian porn vet Rocco Siffredi, who directs while also portraying one of the "sex anal-ysts", because, as(s) you'd X-pect in an Evil Angel pud-uction shot somewhere in Europe, this one's chockfull of crapper crammin'.
We start off with Rocco (sporting specs and a shaved head) getting down and dirty in his plush X-amination room with two Russian beauties: 22-year-old Stefanie Moon and 26-year-old Arwen Gold (the latter on the DVD boxcover for damn good reason!). Arwen complains to doc Rock that her anus is too big so (what does he do?) he does everything to make her shitter bigger. First, Stef and Rock stick a huge glass dildo up Arwen's heinie, during which they both worship said shit pit on the deeply moaning/groaning Arwen. They also stick metal balls up her pooper, which she pops out, each being doo-tifully cleaned by Stef's talented tongue. And, by the way, what great bods on these two young tarts. Wow! Both ladies choke on Rock's cock, after which he (finally!) jams it up Arwen's anus doggy style, with Stef licking off the still-steaming-with-crap love-stick.
Next, a myriad of wondrously nasty antics unfolds: both ladies double suck Rock cock; he anally doggies Arwen while standing; Stef provides sizzling ATOGM action before taking Rock up her cunt while she's bent over a steel-looking table, after which he stuffs it up her patooti, with Arwen revealing her own special ATOGM cleaning techniques. Stef does cowgirl anal; there's more ATOGMs from Arwen who soon does cowgirl vadge, then mish vadge and even a lil' Rock (phew!) rimmin', before Squire Siffredi blasts Italiano dressing all over Arwen's way-cute face, with both ladies ultimately share the murky mixture 'tween their whorish selves. Yes!
19-year-old Anie Darling next does a threesome with freaky Chad Rockwell and 69-year-old (you read right) Hungarian Zsu, who only sucks dick, but provides quite a kinky vision to behold along with such a tasty young filly as Anie. Ms. Darling first sucks a mean prick, before Chad returns the flavor by sucking her cunt good and proper. Her anus, too. He then plugs her twaterola fulla wrinkled sax mish style, then via cowgirl, with Darling's delectable pear-shaped derriere rockin' and rollin' every which way. A beautiful thing. Chad then lifts her up and bones her while she's got her legs wrapped around his arms; another amazing carnal vision. Doggy is next, and it's no less awesome, with more cheeky gyrations, as Chad yanks Anie's ponytail. Granny finally sucks some dick (are her chompers in or out?), after which Chad cunt-tinues to pound Anie's pussy a la doggay, followed by our senior citizen sucking some Darling cunt-a-roo, with Chad soon exploding gametes all across our May-to-December mugs.
Next we have a threesome 'tween 27-year-old Russian Sasha Rose, 25-year-old Hungarian Shona River and Rocco, with Sash taking it up the stinker and Shona providing a secondary mouth/muff. After Sash and Rock do some standing 69, he fingers her shitter, sucks her toes, before Shona shows up and masturbates whilst ogling Rock as he does Sash's slit reverse-cowgirl. They soon both double-suck Rock's rog, with each taking a turn eating his anus (arghhh!), while the other bitch sucks slug. And they go back and forth, back and forth, back and… Hell, I'm surprise Rock doesn't have a heart attack — or a (ka-boom!) fart attack, at the very least. Rock then doggies Shona while standing; humps her reverse-cowgirl while standing, then sitting; does some crazy cowgirl anal with Sash, as Shona provides some lovin' ATOGMs; then, still with Sasha, engages in some heated reverse-cowgirl anal, spoon anal and doggie anal. Whew, baby! Shona sluttily sits on Sasha's face, while Rock (his balls hangin' right above the lapping Sasha) doggies Shona, then anal doggies Sash (still with me?), with Shona cleaning the shit-streaked sword, after which Rock coats their faces with (splat! splat! splat!) Florentine frosting.
Finally we get to what I think is the very best scene, with Hungarian hottie Monique Woods (no age supplied on this hussy) teamed up with 35-year-old Italian vixen Malena (one of my Euro faves), and some bearded tool named Vinny, with way volcanic results, as both ladies revel in getting reamed rectally on a big red shiny sofa — and upon a big, red, shiny prick! Lusciously curvaceous Malena does a fantastic suck-off to start the balling rolling, with Monique providing some oral action soon enough, as well, initially sucking Vin's vine, then Malena's behind. It's not long before Vin is slamming away at Malena's slit mish style, followed by a double-suck o' boy beef, then Malena doing reverse-cowgirl vadge followed by cowgirl anal, with ATOGM ass-istance from Woods, followed by more horny cowgirl buttfucking from Malena, then reverse-cowgirl anal from Monique herself, with Malena sucking and licking anything that's available, be it cunt or asshole, male or female. Such a grand whore! — and with a perfectly juicy booty, too! Spoon and doggie anal with Malena is a movie highlight, while doggie anal with Monique ain't so bad, neither! Soon (and I don't blame the bastard) Vinnie erupts like a gusher into the sexy faces o' both trollops, who share the warm cheese whiz. Fab, baby!
Despite the appearance of our 69-year-old Granny gobblin' some goose (which jaded viewers might actually enjoy), this gonzo is packed with potent pussy/posterior poundings care of some truly delectable/decadent Russian, Hungarian and Italian tramps. Worth checkin' out? Fuckin'-A right!
Synopsis:
In the depraved therapy sessions of Rocco: Sex Analyst #4, XXX icon Rocco Siffredi explores the freaky psyches of insatiable sluts. The porn legend and his sexy staff probe his patients' kinks, like crude threesomes, intense sodomy and intergenerational intercourse! Cute, dark-haired Arwen Gold visits Rocco to show off her anal skills. Leggy nurse Stefany Moon loves playing doctor when it means savage rectal reaming, sphincter stretching, slobbery ass-to-mouth fellatio and a creamy, cum-kissing climax. Elderly Asian blonde Zsu (69) visits Rocco to relive her first sexual experience. Visualizing herself as petite, young Anie Darling, she masturbates, even intervening as she watches Anie and Chad Rockwell in a heated age-play encounter. Sweet Sasha Rose and tall, beautiful Shona River join Rocco for a rowdy anal threesome. The passionate workout features lesbian action, proctologic gaping and primal, no-holes-barred fucking. Slim, curly-haired blonde Monique Woods and busty Malena meet Vinny Star for serious backdoor boning. Their animalistic buttfuck comes with deep rimming and a sperm-swapping climax.