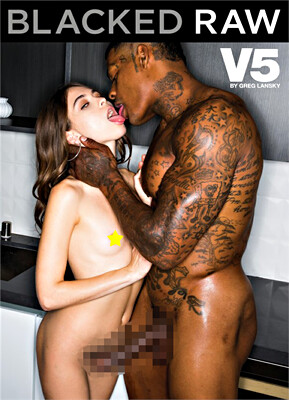 More bawdy interracial bonin' from Blacked Raw, as fine white bitches get bored by big black boners, with director Lansky successfully X-ploring the dark side with all-around horny results, thanks to the winning quartet of lust-hungry cuties he has shrewdly chosen — with two of the featured floozies getting their slick slits creamed with still-steaming jizz. Yeah!
Like all of the other Caucasian cunts jonesin' for black joints in this gonzo, Riley Reid hooks up with a lovah/bruthah (at her pad, his pad, some pad), in this case the heavily tattooed Jason Luv, who really lays some serious lovin' (a la thick ebony prick) on Ms. Reid. And lil' Riley, as usual, does a fantastic job o' blowjobbin' cock, really hacking away at that dark slug o' Jason's as she tries to get it all the way into her mouth. She also rims (phew!) the lucky bastard, and for a good, nasty long time, too! I also like the way she wipes her mouth with the back of her hand afterwards. We soon get a good view of Riley's puffy pussy during mish, while we're treated to some o' that fine, tight lil' Riley rear during cowgirl and (natch!) doggy. And it's funny how Jason's dick just keeps poppin' outta Reid's snatch during reverse-cowgirl (hell, you'll get tired o' counting how any times). And dig the way he creampies the cunt during mish — and how she sluttily rubs it deep into her slit.
Jade Nile is a very healthy young lady who really turns my train around (I wanna see more of her!), totally servicing a dude named Cash (lucky SOB). It's, indeed, a pleasure watching this all-American-looking babe get boned in any position. She's a fine cocksucker, and loves every second of her hose-hammering. A passionate, upbeat babe, Jade is way awesome to view even in a typically more standard position like missionary. She gets thoroughly excited bouncing on black bone during reverse-cowgirl, taking every little opportunity to suck that dick just a bit more. Doggie is great, too, as Jade bends way over to give us a wondrous view of her priceless pooper, before Cash slams her gash in the mish posish, before depositing man-paste all over her cute lil' titties.
In scene three, we're treated to sleek yet no less juicy little blonde Arya Fae, who gets her tonsils and twat blasted out by some dude named Davin King. He really face-fucks the bitch good (and for a long time!), before she sits on his blood-swollen dark salami, with cowgirl being one of the absolute best positions here, as Arya just gets so damn turned on, while we get a terrific taste of her topnotch tush. Doggie is no less amazing, with Arya getting her face as far down as possible for maximum meat mangling of her moist muff. And check out how King cums inside her cunt during mish, with both of 'em jamming the jam further inside with their probing digits. Nice.
And lastly, we're treated to (an appreciated cunt-trast with blonde Arya) exotic brunette Gina Valentina, one of my all-time favorite current porn starlets, here getting her fine self humped silly by the black behemoth of Jax Slayher. Aside from being absolutely gorgeous, petite Gina is a perfectly nasty blowjob artiste, going deep, loud, gooey. She never offers up a bad position, either. But especially don't miss her cute butt up in the air while getting pounded like there's no tomorrow during doggie. Gina, by the way is the only babe to take her pop in the face, but that's okay; I love seeing that oh-so-beautiful mug get sloppily splattered with sperm.
Oh yeah! It's yet another wanking interracial winner from Monsieur Lansky in the always arousing "V" series, with high points going to all four filthy femmes. These slammin' sluts'll bust yer nuts!
Synopsis:
BLACKED.com is proud to present its new studio ~BLACKED RAW. BLACKED RAW~~ is here to embrace new cultures, passionate sex and real women. No photoshop here, everything you see is 100% real. See more at BLACKEDRAW.com.