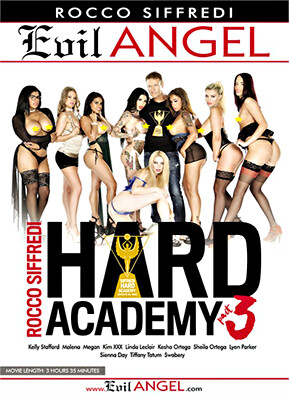 In the lucky third installment of director Rocco Siffredi's "Hard Academy" (for the raunch record, he doesn't perform in any of the scenes), Euro dudes (there's a million of 'em, and I have ab-so-fuck-ing-lutely no idea who's who) are shown by sizzlingly delectable, ultra-slutty international porn starlets themselves how to keep it hard and get off in front of the camera, with some truly scorching sequences, most of 'em blowbangs and gangbangs, again, with a shitload of sausages banging the cakeholes, cunts and crappers of some fine-ass foreign female bodies.
In scene one, we have English blonde Kelly Stafford and Romanian brunette Megan Inky sucking/getting fucked by a whole classroom of horny slobs, with Thai sensation Kim Triple X (also known as Kim XXX) eventually jumping in on some of the cum fun. Yes, there are blowbangs with lotsa deepthroating and gagging. Megan gets assfucked repeatedly (as in anal trains!) with Kelly providing some gnarly ATOGMs (even some man-ass eating, yeuchhh!), Meg is also DP'd with all of her holes being stuffed (I think they call that airtight, right?); Kell also sucks some Megan cunt and anus, as well as takes pop after pop into her face, which she oh so generously shares with Meg; after which some lucky bastard (this could be scene two but it's sorta still scene one, I guess) takes the gorgeous/luscious Kim XXX outside and has her choke on his prick with her mouth, slit and shit. She's a tasty cunt whom I definitely wanna see more of.
Kelly soon joins the outdoor degenerates, as do the other class o' pervs, with Kell doing plenty of ATOGMs and man-ass eating of the lucky guy teamed with Kim, who happily takes a mouthful of squirt from Kell, with the two ladies soon suckin' off all of the guys (yep, it's another blowbang). Boy, that Kelly just can't suck enough boner (I'd like to see her cunt get crammed full of said slug someday, though). After everyone pops and the marvelously trampy ladies swap sperm, we're soon off to our next raunch romp at the Academy.
And that one features Hungarian hottie Linda Leclair taking on eight guys by poolside, first blowin' all of 'em, after which they take her to an outdoor sofa and first take turns rimming her as she blows one guy after another while bent over, with the guys soon banging her cunt (great ass on this bitch!) one after another (yes, it's a twat train), while she cunt-tinues to shuck slug, non-stop. And many horny positions are taken with this ever-compliant tart before the lads all blow boy batter into her kisser. Good girl, Lyn!
Scene three is a major orgy featuring lotsa girls and (once again) lotsa guys, with fairly nuclear results. The ladies who get fucked include the Ortega sisters (Kesha and Sheila) from Venezuela, Italian Melena, Hungarians Lyen Parker and Tiffany Tatem, Limey Sienna Day, and returning Romanian Megan Inky. The girls are paired off with guys who switch places (lucky SOBs), with lotsa anal-yzing, plenty o' boy gristle gagging (one and ones and groups), ATMin'; Sienna, Megan and Melena getting DP'd, and Melena even getting double-analed, while all of the lusty ladies eventually take plenty o' pops in the puss, as well as share their semen spoils with one another.
Lastly, we have Lithuanian Baby Swabery (how's that for a name, hmm?) and returning hungry Hungarian Tiffany Tatem taking on (yet again!) a buncha boners with their mouths, muffs, and, in the case of Swabery, manure-hole. Both bitches, by the way, are way pretty (they almost look like sisters), ultimately getting totally cocooned with cum. Yeah! It's also a joy to watch Swabery not only get seriously DP'd, but get fucked in the ass cowgirl style, while she simultaneously blows two guys off. Amazing.
As a matter of fact, this entire movie is amazing, definitely one of the best so far this year, with not a bad scene/not a bad hoe in the house. Get it! You won't regret it!
Synopsis:
Porn legend Rocco Siffredi presides over a professional fucking master class: In Rocco Siffredi Hard Academy Part 3, he and an international team of hardcore porn sluts educate a big group of aspiring studs. At this kind of boot camp, gangbang fun is both training and reward! British blonde MILF Kelly Stafford and tattooed Megan feverishly suck cock. As the boys buttfuck Megan, Kelly cleans freshly flavored dicks ass-to-mouth. Another group sodomizes busty Asian bombshell Kim XXX; these dudes shower her and Kelly with semen. Glamorous blonde Linda Leclair seduces a team of football players. A blowbang becomes a Champagne-splashed fuckfest, till the lucky ballers fill Linda's mouth with cum. Stacked Latina sisters Kesha and Sheila Ortega join Megan, brunette Malena, blonde Sienna Day, pale Lyen Parker and young Tiffany Tatum in a mass orgy of face fucking, anal reaming, lesbian licking, creamy facials, oral cum swapping and nasty, double anal penetration! A mob abducts Tiffany and adorable teen girlfriend Swabery from a photo shoot; the nasty boys drill Tiffany's pussy and pound Swabery's holes in lewd double penetration.