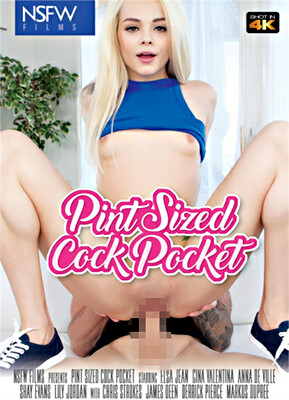 Four white dudes get to bang five fresh pieces of ass, with each petite starlet (two Caucasians, three Hispanics) putting in horny sperm-formances.
And we start with quite an explosive sweetheart, indeed: namely, dick-hardeningly delectable darlin' Elsa Jean (who also deliciously graces the DVD box cover in mid-fuck), whom that lucky bastard Chris Strokes gets to plug. And, boy, what a killer, oh so juicy butt on Elsa. Strokes has a pretty massive wiener, but Elsa does her best to swallow that fucker all the way to the bone. She sucks-seeds, too! It's definitely a movie highlight, with lots of spit and gagging. Else has got quite a meaty twat on her, as well, and it's a beautiful thing watching her fuck in any position, be it reverse-cowgirl, cowgirl (including some awesome squatting-on-cock action), doggie (another barn burner, what with Jean's succulent butt cheeks), missionary, spoon; with lots of breaks for some added deepthroating frequently thrown in for good horny measure. And Jeanie baby takes a huge, watery pop shot like a true champ. Love ya, Else!
Next is another one of my favorites in the lot, Latina lust bunny Gina Valentina, who's just so sweet and fresh-looking, with another amazing pair of butt cheeks; her tasty olive skin offering a nice cunt-trast with Elsa's snow-white aura; and that majorly luck prick Chris Strokes returns to slam this other high-end piece of young ass. Gina gives a good blowjob, going as deep as she possibly can, with loads o' stringers, before Strokes hammers her doggie style against the arm of a sofa, before moving to the center of this standard porn furniture, pulling her lovely long black hair and smacking her meaty butt cheeks on occasion. Gina also offers a wondrous round of cowgirl, including lots of butt-jiggling and some highly memorable squatting feats. I like her horny eye contact during missionary, a position which gives us a terrific view of her fantastic body (perfect little tits, tight stomach, beautiful young face, including a charming overbite). We're treated, by the way, to even more doggie against a swivel chair, missionary upon the same construct (Gina's dreamy, sex-intoxicated eyes being hard to miss), and (splatttttt!) a pop right into her right eye. She's another champ. Good girl, Gina honey.
Fair-skinned Anna De Ville partakes of some spirited sex with James "Mr. Wonderful" Deen, with high points definitely including her intense cock hacking (oodles of spit just cascading from her gob), as well as Jimbo slammin' that ham during doggie, with a little choking thrown in just for the kink of it.
Our second south-of-the-border babe is Shay Evans, who has an arousing pair of bumped-up boobies, a cute-as-hell face, and, yes, yet another picture-perfect posterior, here having her bodacious bod put through the XXX paces by nice-guy baldie Derrick Pierce. Shay's big, head-givin' lips are put to superb use during her deep, nasty suck-off o' Pierce pud. She's another chick, like Elsa and Gina, who just can't appear in a bad position, though my favorites moments with Shay are doggie (Derrick really pounds the hell outta the sexy bitch) and the pop shot, where she just opens that huge hungry mouth of hers, unleashes her long wet tongue to ravenously consume all o' that Derrick dick snot. Love watching it streak down her big juggs, too.
And our last pint-sized cutie is brunette waif Lily Jordan, who, with her bawdy Bolivian roots (yep, she's our third torrid Latina), gets the Russian-ream treatment from Markus Dupree, with scorching results. To begin with, Lily is so damn pretty; also she's got yet another first-rate rump, which Dupree really works out during doggie, occasionally plugging her squeaky-clean anus with his finger. Reverse-cowgirl is shot from Dupree's perv-spective, so it looks like cowgirl, with Lily's cunt just grabbing at that big Rooskie rod. Her blowjobs are strong, if not totally nasty. And I like seeing her take it missionary, because it gives us a grand view of her soft, luscious bod. Very fortunate schmucko-supremo Dupree looks like he's in some kinda heaven as he ploughs this magnificent little tart. Standing missionary, shot from below, gives us another breathtaking/bonerbusting view of Jordan's amazing ass, while she heroically, happily takes a wet, streaky pop shot in the kisser with flying colors. You rock the people's cock, Lil.
You won't be displeased with all five of these spry, "pint-sized" newbies, especially Elsa, Gina, and Lily. Definitely strong beat-yer-meat material.
Synopsis:
We hope these girls are ready, because their tight little pussies are about to get destroyed! Join Elsa Jean, Gina Valentina and more horny young chicks as they get their petite little bodies pounded to submission. Their Pint Sized Cock Pockets are about to be stretched on all sides!