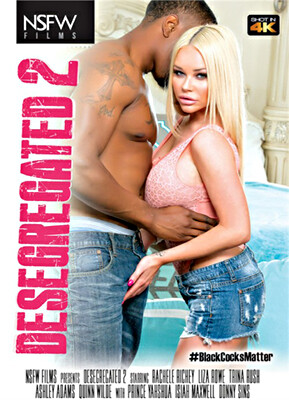 From NSFW Films, "Desegregated 2" gives you five white bitches getting boffed by black boner, with my votes going to Liza Rowe and Trina Rush for putting in the horniest sperm-formances.
Actually, cutie Quinn Wilde is X-ceptional at the gonzo's cunt-clusion, really workin' it in the reverse-cowgirl position, with her lip-smackingly tasty butt cheeks wobblin' all over the place, while she ever so happily takes the biggest pop shot in the whole movie (from the obviously pent-up penis attached to Donny Sins).
The other girls aside from Liza and Trina? Well, if you like totally sculpted blondes, then you'll dig Isiah Maxwell's boning of Rachelle Richey. And if you enjoy girls who really listen to instructions and are just oh so wonderfully submissive, then you'll adore Prince Yahshua's humping of compliant little Ashley Adams.
But let's get to the two wanking winners here: Liza Rowe and Trina Rush. I even like both of their noms de porn. Liza Rowe sounds like a mainstream actress, while Trina Rush is pure XXX. Yeah! But I digress … from the bodacious butts on hand. Both young ladies are quite pretty, with all-natural spinner bodies. I like how Lisa keeps getting better and better at sucking the thick slug Prince Yahshua (still wearing those tan hiking boots, just in case "the man" shows up, I guess) wags like a monstrous beast in her sweet face. She's great to view in all positions, too; from missionary, to cowgirl, to reverse-cowgirl and doggie; with her luscious ass superbly highlighted whenever it's jammed up against the camera. Umppph!
Trina Rush is also a vice vision to behold. When given a chance, this X-tremely photogenic piece of ass sucks a nasty prick. Like Liza, Trina just can't be filmed in a bad position, though my favorites are doggie, cowgirl and missionary; the first two stances giving us a great view of Trina's terrific tush (which she likes getting spanked; note the red marks that keep appearing on her bodacious butt muffins throughout her brothah-lovin' slammin'); while mish gives us a delightful view of her scrumptious bod.
Some happenin' interracial invasions, indeed, in "Desegregated 2," but I ab-so-fucking-lutely (as you will!) wanna see more of pretty, nasty lil' all-naturals Liza Rowe and Trina Rush. Cock-rockin' bitches!
Synopsis:
The black cock brigade is back, and they're going to show these sluts who's boss! Watch them ground and pound these tight little pussies to submission, just the way they like it. Black cocks matter for these sluts, and they wouldn't have it any other way!