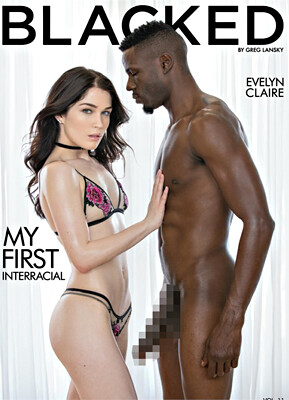 Talk about apocalyptic interracial sex! — featuring, no less, four of the industry's tastiest-looking, horniest-acting (that's not acting!) white bitches!
Evelyn Clair looks amazing and can suck and fuck like there's no tomorrow, here gettin' her scene partner's dick good, slick and (ba-LATTT!) off! The little blue-eyed brunette bimbette is incredibly pretty, with a delicious body (she's on the DVD's cover for a damn good reason), and I gotta give this pixie credit for trying her best to jam that joint down her throat. It's great, too, when he face-fucks the floozie and she nearly goes cross-eyed. Doggie is absolutely the best position here, with the fella really workin' that booty, for a good long time, too. What a pink pussy on this babe! And I love the added horniness of a red handprint on her ass while she's getting doggied. Killer.
Lily Love plays an entertainment reporter who interviews a well-hung sports dude that really fills up the scrumptious-looking Caucasian cunt, who reminds me of Catherine ("Dukes of Hazzard") Bach during her heyday back in the '70s, though Lily has a much rounder, juicier (mama!) ass! Check out how the torrid tramp tries her best to shuck down that slug. Damn, girl! Her greased-up ass cheeks rock and roll during cowgirl, in one of the movie's best sequences. Whew! How the guy refrains from bustin' his nut beats the shit outta me. Reverse-cowgirl gives us a fantastic view of Lily's amazing body. And talk about a great (not too big, not too small) pair o' headlights! Doggie is another highlight in the movie, as she gets slammed silly. I'd eventually love to see this whore do some anal! Director Lansky returns to the reverse-cowgirl position, but shoots it from the male perv-spective, giving us more awesome jiggly-jiggly ass-cheek action. Terrific!
Whorish waif Haley Reed gets down and dirty with her/her boyfriend's temporary roommate, making for another scorcher of a sequence. Haley really knows how to deepthroat a cock, totally choking on veiny gristle, in a way memorable mouthmassage-manmeat scene. During doggie, he really buries his bone(r) in the bitch — and she keeps sucking that huge hose whenever her gob is given a chance! It's hilarious, too, when her beau (sporting a fey man-bun, no less) walks in on 'em during a round of energetic reverse-cowgirl, with our cuckold quickly gettin' all steamed up and angrily stompin' away with a scowl. Ha! Oh yeah, you're also gonna love how the BBC-wielding fella blows dick-snot all over Reed's mouth and chin. Yeah!
Luscious Daisy Stone next takes on a boner for one nuclear ending to this all-around fiery fucking porn-manteau. I like how he makes Daisy choke on his chicken, big time. Some nice saliva-drippin' action there, too, just before she sucks down his greasy black balls. Stone's gorgeous butt cheeks are booty-fully well-displayed during cowgirl (once he stops grab-assin' 'em, that is). I also like how she squats down upon/bounces all over his dick during cowgirl. Doggie is wonderful, with Daisy providing plenty of always-welcome eye contact, as well as dick-hardening whore-moaning/–groaning. Missionary is deep and horny, with plenty more arousing eye contact, followed by a good dollop o' jam plopping onto Stone's chin. And don't you just love this cutie's ever-cheery attitude?
Director Greg Lansky has done it again, delivering a totally searing quartet of interracial stories, with high points going to all of the lusty young ladies; though I do have a soft (make that hard!) spot for (slurp!) lascivious Lily.
Synopsis:
BLACKED.com proudly presents MY FIRST INTERRACIAL VOL. 11! Greg Lansky perfectly captures four IR debuts in this next installment of his seminal series. Cover-model Evelyn Claire plays a promiscuous girlfriend, living out her deepest fantasy with her boyfriend's roommate. Also featuring the debut IR performances of Lily Love, Haley Reed, and Daisy Stone. With beautiful cinematography, captivating stories, and stunning models in exclusive performances - MY FIRST INTERRACIAL Vol. 11 is a collection that will leave you beyond satisfied.