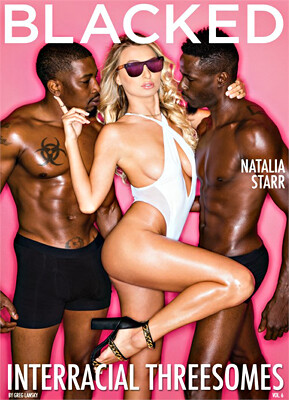 Sometimes it's two bros and a bitch. Sometimes it's two chicks and a dick. Either way, you get six bangable babes spread out (in more ways than one!) in four screamin' (also, in more ways than one!) interracial scenes, care of the fine pervs at Blacked.com and raunch auteur Greg Lansky.
In a very simple storyline, college roommates — and total whores — Josephine Kelly and Lily Rader have too much time on their hands and feel they need more slime on/in their glands, so they ever so trampishly take on the raging black behemoth attached to big bald Flash Brown. I love the eye contact blonde Kelly dons during her deepthroating (or attempted deepthroating) of Brown's gigantic boner. Ditto for Rader (who, if you don't know who's who, has the darker hair between the two lascivious ladies). And dig all o' the spit Josephine gets on that prick. You go, bitch! Kelly really rides that rod during cowgirl. I love seeing her choice cheeks in action, too. Such a passionate pixie, groaning and moaning, screaming and creaming throughout her Flash fucking. Rader definitely rocks, but Kelly is such a voracious cock inhaler, be it via gob or gash, that I just can't get enough of this super slut.
And check out how Flash doggies 'em side-by-side. Gotta say that Kelly also has one of the juiciest butts in this entire flick. Brown, by the way, totally slams it home during Kelly's doggie dunking. "Thank you so much," she tells Brown as he blows bro batter onto both o' their mugs, with each girl sharing the spunk back and forth. Killer!
On-screen stepsisters Anya Olsen and Sydney Cole like to lap up each other's labia, before they gluttonously feed up on Isiah Maxwell's huge hose. Both Anya and Syd totally choke on Maxwell's gristle (it's a beautiful thing!), before Maxwell slips his maximum man meat into their separate sweet slits during cowgirl (with Anya licking pud-plugged pixie Cole's poop pit), reverse-cowgirl (with Olsen riding rod) and doggie (Anya, yet again, licking dick-drilled Cole's free culo, before Olsen gets doggied herself, with Anya presenting yet another wildly succulent pair o' butt cheeks); Max man ultimately going back and forth between the bent-over booties o' both bawdy bitches), with mad Max delivering a creampie inside Cole's cunt, and awesome Anya sucking as much of that spunk outta Syd's splooged snatch as possible. Whew!
Next, Polish pud-whore Natalia Starr gets her tonsils and twat deeply double dipped (yeah!) by the returning Isiah Maxwell and his buddy. After some pussy sucking and double dick licking in the shallow end of a pool, our three degenerates move inside, so that the boys can really "move inside." Natalia is great when she's choking on cock, though I think she uses too much hand action during her double-jointed suck-off. I love how she bounces on cock with her lush, smooth ass during cowgirl, while also occasionally sucking bro beef. Next, we get to fully appreciate Starr's star body during reverse-cowgirl (boy, can she bounce on boner!), while you definitely don't wanna miss her fine butt getting doggied by the lads, her scrumptious big (but not too big) boobies deliciously hanging down, while it's also a treat seeing her honey hole get seriously rootered during missionary, with the boys really lathering her pretty mug with pop paste. Whoa, mama!
Lastly, we have a torrid threesome with black and beautiful Chanell Heart, the returning hottie Sydney Cole, and "that's-what-I'm-talkin'-'bout" Prince Yahshua. Cole plays the babysitter for Heart and Yahshua, both of whom seduce her (and sweetening the deal with money doesn't hurt splatter matters!), with both ladies really gagging deep on that princely prick, cum-plete with plenty of always-welcome eye contact. In terms of pussy penetration, Syd first rides Yahshua cowgirl style (marvelous ass-gyrating action), followed by more deepthroating from both ladies, Heart taking her turn riding cowgirl style (what a pair of wondrous wobblers on Chanell!), more deepthroating, doggie a la Cole, more cock-choking, doggie a la Heart (damn, what a full booty!), a bit more dick licking, mish for Syd, the same for Heart, and a good splat o' seed going into Syd's gob, with both tarts sharing the gunk ever so happily. Rockin'!
Yep, it's another wanking winner from director Greg Lansky, with these incredibly intense interracial threesomes erupting (like your hard-on) off the small screen. Volcanic stuff!
Synopsis:
BLACKED.com and Greg Lansky, are proud to bring you INTERRACIAL THREESOMES VOL. 6! The epitome of IR threesome series is back with a collection built from the ground up for your pleasure. Cover model, Natalia Starr, stars as a promiscuous bottle-girl with an insatiable appetite for athletes. With BLACKED.com's unparalleled production value and storytelling in full display, INTERRACIAL THREESOMES VOL. 6 is a collection that will leave you breathless!