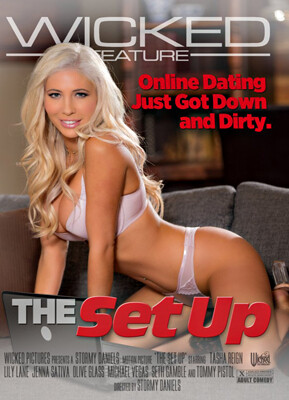 When she wasn't making global headlines with "The Donald," former Wicked Pictures contract girl Stormy Daniels actually wrote and directed movies for said porn company. This Daniels ditty is a comedy involving the dating game via the internet with lust, crime, revenge and (can you believe?) love resulting, as well as some pretty gosh darn sizzling sex (five scenes in all, cunt-sisting of four boy-girls and one twat-to-twater).
Tattooed vamp Lily Lane starts the balling rolling, playing a femme fatale who, while boffing her blind date Michael Vegas at his pad, also robs the bastard blind (with the help of her sleazy boyfriend, played by Tommy Pistol). Lily gives one of the gnarliest BJs in the entire movie, complete with deepthroating and filthy wet noises, before Vegas screws the luscious, big-bottomed/-boobied babe spoon style, cowgirl (watch those incredible Lily butt cheeks gyrate like crazy!), doggie (more awesome rippling and rolling ass cake action), at which juncture Vegas spews goo all over Lane's prime patooti.
Meantime, over at Seth Gamble's joint … blonde Tasha Reign is drinking red wine with the lug (who, apparently, is her beau, for the moment), before she soon gets sausage skewered by Monsieur Gamble on the ol' XXX (don't mind the slime stains) sofa. Reign is a good cocksuckette, while I really enjoyed viewing her sleek, smooth slit getting doggied by Seth sword, with cowgirl and spoon ensuing (seeing those finely augmented breasts bouncy-bouncy is a pleasure), with Gamble eventually gushing gametes all over Reign's tummy during mish — after which his on-screen wife walks in on the couple, much to the shock/disgust of poor, double-crossed Ms. Reign.
Next, after counting a stack o' cash from his latest home robbery with Lily Lane, Tommy Pistol gets some o' that Lane gash, but not before a rousing BJ, followed by some choice spoon sliding (nice vibrating boob action), some sweaty doggie busting ("whatever you want," Lane tells him, as he gets those juicy cheeks undulating), before he switches to her shitter for some deep anal probing (and some oh so romantic rectum dilating, as in gaping), after which he fucks her crapper in the reverse-cowgirl posish, followed by a full-on creaming of her mouth and mams. Yeah!
As our story cunt-tinues … Vegas and Reign, by chance, hookup and do seem like the perfect couple, soon spotting a coveted wrist watch which Pistol stole from Vegas' pad, after which Vegas and Reign plot some revenge against the Lane and Pistol, at which point (if you're still with me) a fairly heated pussy-on-pussy fest unfolds between Reign's very fuckable roommates, Jenna Sativa and Olive Glass, both of whom look great while they're either sucking or getting sucked, while I also enjoyed Sativa's big cheeks pumping on a strap-on in the cowgirl position, just before Glass plugs Jen with the same device in the missionary position.
Moving forward … after a bit o' storyline involving some kinda weird app (I'm not too tech savvy, but I know good fucking when I see it), Vegas and Reign set the cops on Pistol and Lane, with Vegas retrieving his beloved watch (an heirloom from his pop, apparently), before he gets to (finally!) pop his nut with Reign (on an honest-to-goodness bed, even!), with a high point in their home-humping being cowgirl, shrewdly shot from both the front and the back, and fantastically spotlighting Reign's choice bod.
"The Set Up" is an entertaining comedy with enough good penile inhalation (be it in mouth or muff) from Reign and Lane (hey, that rhymes) to keep couples X-tremely interested/engaged/aroused/horny — and … the movie's even got three bonus scenes from a few other Wicked features. Worth a look.
Synopsis:
Peter (Michael Vegas) has been unlucky in love and decides to try a dating app to meet women. Unfortunately he gets more than he bargained for when his ad is answered by sexy con artist Cindy (Lily Lane). Across town, the beautiful Emily (Tasha Reign) is in the midst of her own dating nightmare. Just when Peter and Emily have decided to give up on romance, a chance meeting brings them together. Soon they are not only hatching the perfect plan to get revenge on those that have wronged them, but they may also be getting another chance at finding love.