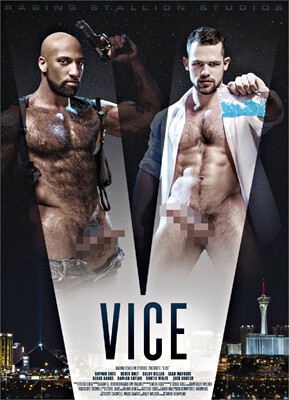 This satirical tale from director Steve Cruz of a street drug that turns men into cock-hungry hounds features strong art direction, editing and other tech credits and a uniformly terrific cast that includes Colby Keller, Beaux Banks, Daymin Voss and Derek Bolt. Not a clunker in the bunch.
Keller, reigning XBIZ Awards winner for Gay Performer of the Year, is under the effects of the dick drug and cajoles arresting detective Damian Taylor into letting him suck some cock to relieve the pressure. Taylor strolls, boner-first, into the jail cell for a hardcore ride and he's a terrific match for the gregarious topman's propulsive sexual energy.
Taylor later shares a scorching oral-only hookup with hunky, furry African-American stud Daymin Voss. The two smooch, maintain eye contact and slather their cocks with spit. Even without any fucking, it's terrific sex and the chemistry is combustible.
Lean, inked otter Sean Maygers is a drug lord who dominates two of his henchmen — Jack Hunter and Beaux Banks — as they prepare new shipments and succumb to sexual temptation. Banks is a rising star with a lean body, irresistible bubble butt and a ferocious erotic energy. He sucks hungrily on Hunter's plus-sized cock and proves himself a highly energetic subject for a spit-roast; Banks really does bring out the best in his tops. Hunter, for his part, also submits to a rough, aggressive ass-pounding.
Maygers has another matchup with boyishly handsome, musclebound Derek Bolt, who literally tears off his clothes as he dives onto Maygers' cock. Fans of sexual aggression will really get off on their sexplay; Bolt turns up again later in a lively threesome with slyly handsome Kurtis Wolfe and a returning Voss.
Special kudos to the eye-catching DVD insert design.
Synopsis:
When Las Vegas is flipped on its ass by the latest sex party drug, Tsunami, local law enment goes undercover to bust the narco ring responsible. The effect of the drug proves too powerful for vice to contain and a reality film crew captures it all. Busts go awry. Is it a precinct or a brothel? Sometimes the line between the good guys and the bad guys is not completely defined. Who will end up on top in Vice - the law or the cartel? Vice Squad Officer Damian Taylor has his perp, Colby Keller, behind bars. Colby won't narc unless he gets a taste of Damian's thick dick. Colby gets more than a taste and slides his big hairy cock balls deep into Damian's tight ass. Back at the cartel headquarters, Beaux Banks and Jack Hunter are working for kingpin Sean Maygers, packaging the goods. When Sean catches Beaux with Jack's cock down his throat, the boss says he will fuck them both if they promise to get back to work.

Derek Bolt is a vice cop undercover in Sean's distribution warehouse. When Sean finds him snooping, he makes him try the merchandise and soon Derek is bent over taking Sean's thick curved cock deep inside his hairy ass. Officer Damian and detective Daymin Voss have had their coffee spiked at police headquarters. When Tsunami kicks in, Daymin tells Damian that he "wants to do gay shit" - and soon his throat is being reamed with Damian's big hard cock. After getting his face stuffed with dick, Daymin walks in to find Derek and Kurtis Wolfe making out. Their lowered inhibitions lead to a hot confession and Derek taking on both hung studs before all three of them drain their balls all over Derek's hot, ripped body.