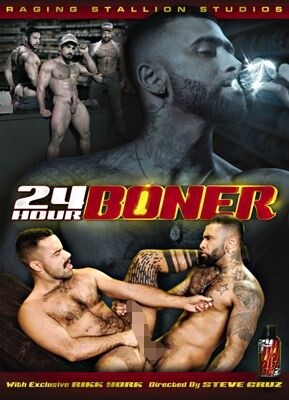 Well-crafted sexplay infused with a welcome dose of humor by Raging Stallion house director Steve Cruz. Sergeant Miles and Rikk York stand out amid a cast of similarly furred, inked and brawny men.
Burly firecracker Teddy Torres is a superb match for growly, equally hirsute York, who has downed a boner elixir (not that he really needed it). He and Torres share a combustible chemistry and York pounds the cum out of Torres, who splatters his furry belly with semen.
York returns for a scorching oral vignette with hunky, mustachioed Nate Stetson (who cut quite a memorable figure last year in Falcon's "Route 69"). The ever-horny studs have barely finished feasting on each other before they double-team scruffy otter Jett Rink.
Sergeant Miles, a muscled slab of masculine appeal, is sucked off by lean, furry pup Teagan Zayne through a glory hole and then returns to have gorgeous Seth Santoro ride his giant boner. Santoro is all body these days and his so-called "punishment" for Miles, a would-be shoplifter, will likely encourage more crime in this unusual mini-mart. It's among the best sex of the film. Miles specializes in dirty talk and easily and smoothly dominates both men, ripping apart Zayne's clothes and feeding the pup's cum back to him, then eating out Santoro with relish and jamming Santoro's ass with his perilously thick boner.
Zayne is back in the bathroom for a spit-and-beer-soaked fuck session with growly, inked-up Alex Buldocek while burly, bearded Jaxton Wheeler fucks muscled Lorenzo Flexx, a gruff power-bottom whose intensity brings out the kinky best in Wheeler ("Fuck it, I'm down," replies Flexx when Wheeler proposes they hook up).
Synopsis:
Welcome to the world's most fun and amazing 24-hour convenience store, where hot studs suck cock, fuck ass, and drink cum to pass the time. Step inside to do your shopping and you'll be sure to find all the '24 Hour Boner' you can handle! Rikk York finds himself horny after accidentally drinking a boner elixir on the job. Luckily for Rikk, delivery guy Teddy Torres is there to help relieve him of his symptoms. When Sergeant Miles hits the bathroom to take a piss, he gets more than he bargained for when he sees Tegan Zayne's bearded lips inviting him to slip his cock through a glory hole. Jaxton Wheeler and Lorenzo Flexx are buying food when they realize no one is at the register. Jaxton takes full advantage of the situation and after getting a blowjob from his buddy while eating, he fucks the cum out of Lorenzo. Seth Santoro catches Sergeant Miles shoplifting and tries to stop the hunky stud from stealing. Instead of stopping the action, Seth finds himself getting railed as the hung shoplifter fucks his hairy asshole. Alek Buldocek finds Tegan Zayne with his cock out in the bathroom. Without words, Alek cracks a beer and lets Tegan suck him off before he fucks the load out of the horny bathroom pig. Rikk York is cleaning up the store when customer Nate Stetson enters to find Rikk rubbing his crotch. Nate takes his cue and the studs swap blowjobs until they both cum hard. Just as the two hunks finish up sucking each other off, Jett Rink enters the store. Nate and Rikk get to work on toned stud by spit roasting him. The three horny studs finish each other off as the cum flies into faces and on the floor. Whether you're at the store to buy food, take a piss, or admire the studs who work inside, '24 Hour Boner' will deliver exactly what you need. The store never closes, and neither do the mouths and assholes inside!