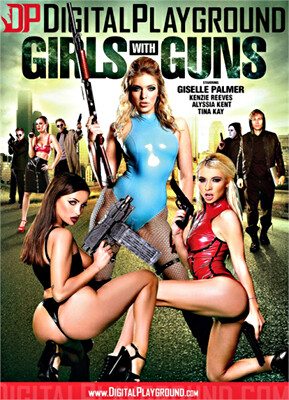 Digital Playground scores with this "Blade Runner"-ish action title from director Dick Bush and writer Ginny Rex. A world-controlling organization called the Agency runs something called Project Innocence wherein able-bodied young women get turned into androids, or Units, capable of extreme physical feats.
They also happen to be fond of fucking, which is the reward they get for killing people who stand in the Agency's way. Giselle Palmer as Unit 1 gets Ryan Ryder as a treat and she fucks his brains out in a super-high energy encounter. It's like she's not human — which of course is the point.
Villains Tina Kay and Danny D plan to use the Units to take over the Agency for themselves. They cause a lot of havoc before they're defeated by girl-bots with guns led by good guy scientist Michael Vegas.
Tina, a Euro star with the sexy accent to match, takes on Danny's monster cock in another red-hot coupling. Vegas gets two threeways, the first with Giselle and Kenzie Reeves in a cramped shower space. The second features Kenzie getting banged by a Sybian machine while Alyssia Kent gets going with Mike.
"You're a disease and I'm the cure" is the memorable tagline from the violent ending. There is blood and brimstone, excellent FX, several non-sex actors to move the story along, and lots of volcanic sex.
Synopsis:
When an elite group of government hackers goes rogue, it's up to the agency to track them down. Engage Project Innocence - three sexy experimental cyborgs who are built to hunt and kill. Agents and hackers will struggle to control these bombshell prototypes - but what happens when the killer girls develop a mind of their own?