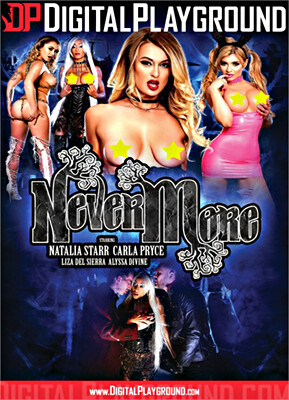 This release collects five parts of a British-made online serial — a rousing otherworldly adventure where big-boob babes get it on with zombies and vamps. It's a little hard to figure out what exactly is happening — it's almost as if it doesn't really matter when the thrills, sex and tongue-in-cheek humor come so frequently.
Jessica — played to perfection by beauteous Natalia Starr — is some kind of ghostbuster who goes around fighting off vampires and werewolves and "crazy cults" with her sidekick Bunny, played by cute, busty Carla Pryce. They have the ability to vaporize at will and enter other bodies. Jessica sometimes speaks in a deep demon voice. Nevermore seems to be the name of their own cult.
The sex scenes are allocated one per episode. Natalia blows skinny Ricky Stone then rides him in reverse. Curvy, pretty Liza del Sierra, wearing devil horns, gets fucked energetically by Danny D. Natalia and Carla do a two-on-one blowjob on Felix Jones and Carla bounces on his dick.
Platinum blonde Alyssa Divine, a vampire queen, takes on the big cocks of Danny and Nacho Vidal in a really rough encounter. The final scene sizzles as Natalia gets anally gaped by heavily inked Luke Hardy.
Writer-director Dick Bush seems to having fun along with the cast, and the open-ended conclusion ("It's not over yet!") indicates that more episodes may be on the way.
Synopsis:
Mystery and murder are bad enough. But when your underworld boss is Death herself? Well, you might end up using methods to solve the supernatural. With a pink latex Bunny for a sidekick, Natalia laces up her ass kicking boots and gets to work saving the world. She'll fuck and suck until it goes down in fireworks - and like a good boss she always saves a little cock for Bunny.