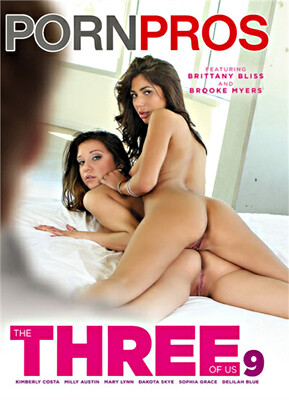 From PornPros, it's their steamy series of threesomes — i.e., two bitches and a boner — with the girls all looking terrific and the boinking being energized enough to make all four scenes (and all eight vixens!) worth watching, from start to finish.
In the first scene, Milly Austin (the darker-haired of the two lassies) is teamed up with Kimberly Costa, and I'm grateful because this scene has introduced me to Ms. Austin, who must be one of the most delicious-looking brunettes in the business. Both girls start off by masturbating next to one another on a bed, before they start grinding pussy into pussy and it's screamingly obvious that Milly knows what she's doing. A dude eventually shows up with a double-headed dildo, pleasuring the ladies with it, before he pulls out the real thing and pleasures 'em with said veiny sausage, with one of the most erotic moments being when he doggies the ladies, side-by-side, with Milly's cheeks really bouncing. I love how both babes have smallish tits, but they look oh so tasty, especially Milly's (have you guessed that I'm biased?), who must also be viewed in sizzling action during reverse-cowgirl. Mama!
The other girl-girl-boy episodes similarly have much horniness to lend. Dakota Skye has always been a treat to view, and this fair-skinned lassy is perfectly paired up with bronze brown-haired beauty Mary Lynn, who's a superb cunt-sucker, although (after a prick eventually shows up) Dakota's a fantastic deepthroater. Side-by-side doggie with Skye and Lynn rocks, as does missionary, which really gives us an amazing view of Mary Lynn's equally amazing taut (slurp!) anatomy.
Another pair of absolute beauties is the Brittany Bliss/Brooke Myers hookup (they're on the DVD box cover for a reason; and, by the way, Brittany is the girl on top in the cover photo), with one of the more molten moments being when Brooke spreads Brit's booty-ful butt cheeks while Bliss is blissfully getting boner-banged; the camera getting good and close so we can fully absorb the exciting action. And we're rewarded with more Brit backside during reverse-cowgirl, which is partly shot from the dude's perspective. Actually, might as well cunt-fess (as if it's not already fucking obvious!), I think Brittany is the shit. She's both gorgeous and erotic, and her amazing head-givin' lips are head-turning (in more ways than one!). And watching Brooke get slammed in the spoon position is another blow-yer-load segment of the scene, while she's also (like Dakota) one of the movie's very best dick-lickers, going down slow and deep.
Lastly, Angela is a large-boobed tart (not a teen) who's both incredibly attractive and scrumptiously voluptuous, here getting hammered beside a remote creek somewhere in the woods on a bright day, with Angie making me particularly aroused when her protuberant backside is taking it doggie and POV-cowgirl. Wonderfully liquid eyes on this sweetie, too, who — next to Avery and Victoria — is one of my faves.
All of these chicas are foxy and horny enough to make you expend a fistful o' gametes. Solid crank material.
Synopsis:
A girl who loves to share dick, is the best kind of girlfriend to have.