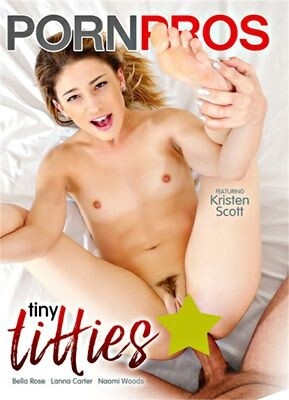 Who cares if they have small tits, because this quartet o' quim looks absolutely outstanding — and they suck and fuck with flying colors, too!
Pretty, perverted kitten Kristen Scott is definitely a high point of this title, getting the ol' in-out/in-out while she's practicing her piano. Kristen sucks well (a creative overhead angle is offered during her BJ), but she excels bending over during doggie, as well as riding saddle during cowgirl. Her little titties are, of course, well displayed during reverse cowgirl, as is her moist, young cunt in action; while missionary offers the same treats (and another one of those provocative high, overhead shots of the scorching action).
Just with her looking directly at the camera, Bella Rose strikes you as a total slut, and she proves it with some bespectacled geek, who undoubtedly experiences one of the best moments of his life as he gets to bang this choice morsel. I love how Bella chokes on cock and smiles oh so sweetly afterwards. Great eye contact from this bitch during missionary, along with sincere groans of pleasure. Doggie gives us a brilliant view of her marvelously shaped butt. For you tiny titty lovers (I'm one of 'em!), Bella is not to be missed in reverse cowgirl. And her wonderful booty returns during cowgirl. Simply stated, Bella is a superb sleepy-headed fuck.
Sultry Naomi Woods is another highlight in this well-shot gonzo, with her tanned body looking outstanding in each and every position. I even love this slut's hairy eyebrows, which really make her intensely pretty face stand out all the more. Naomi tends cock well with her tongue and tonsils, giving a more traditional BJ, as opposed to the more modern technique of choking and gagging. By the way, you just can't miss that juicy butt of hers, even during missionary! Love her big nipples, too. Naomi's golden-tanned body makes her lighter-skinned tits stand out all the more, and you get a top-notch view of those beautiful little breasts during reverse cowgirl and spoon. We also get a terrif overhead view of her meaty butt during doggie, just before the nameless stud coats her tongue with dick snot.
Lastly, fair-skinned waif Lanna Carter shows off her wondrous wares — including her pert titties — while getting penetrated on a good ol' sofa. Carter tries her best to go deep with the cock presented to her (nice job, Lanna), while I love seeing (and, of course, hearing!) her moan during doggie. Fascinating, too, how the girl just seems so innocent as she bounces on boner during reverse cowgirl. I also like how she passionately kisses. All in all, the very pretty, visibly horny Ms. Carter most definitely gives a potent ending to this dick-hardening/-bursting gonzo from Porn Pros.
Indeed, all four of these attractive, small-breasted young ladies absolutely rock, proving, quite exceptionally, that size does not matter.
Synopsis:
Porn Pros proudly presents the tiniest boobs in adult today. you'll never need to know how to unclasp a bra with girls like these! Their sweet tiny nubs are so much less than a handful, but if you love little tits, they'll be more than you can handle!