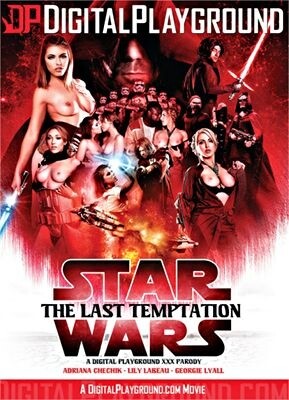 Digital Playground follows last year's well-received "Star Wars" parody with a take-off on "The Last Jedi," with a whole new cast. It combines good SFX and miniatures with convincing action sequences (lightsaber fights), good acting and some extremely hot sex.
Xander Corvus plays Kylo Ren to Adriana Chechik's Rey, with Lily LaBeau as Phasma. Before they all get into it, Georgie Lyall as the apparently ageless Princess Leia, rescues injured fighter Finn (Antonio Black) and rewards him with a fuck.
Luke Skywalker returns in the person of Erik Everhard. He and Corvus give excellent focused performances. Chechik is also convincing, demonstrating stellar acting skills (and a British accent, no less).
We get to see Adriana's considerable non-acting skills when she's plowed by Xander and later in a slobbery three-man blowbang. She also scores at girl-girl with an equally energized Lily LaBeau. For the finale, Lily gets power-fucked into infinity by Erik.
As a parody, the drama is played pretty straight, with lots of richly over-the-top dialogue ("Your lust does not persuade me, I dwell in the light"). There's at least one line for the ages, from Luke to Phasma: "You feel The Force deep in your vagina, don't you."
Director Dick Bush, writer Ginny Rex and their team deserve credit for maintaining a nice balance between story and sex. Let's hope DP continues this line — it satisfies devotees of the original, the new ones, as well as porn fans.
Synopsis:
Is there anything sexier than the dark side? In order to complete her Jedi training, Rey must master her lust - and not just for power! When Kylo Ren bombards her mind with sex soaked dreams, Rey knows she ahs to fuck him, or destroy him, once and for all! But is this dirty Jedi mind trick all a trap? or will Rey's first taste of RAW power drive her to the dicks of darkness?