Spider-Man: A Gay XXX Parody
Men.com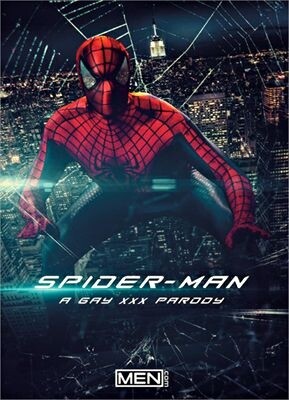 Director Alter Sin's latest twist on superheroes and pop culture for Men.com — their parodies of "Star Wars" and "Tarzan" were XBIZ Awards nominees the past two years — is an erotic winner when the costumes and masks come off, with familiar storylines featuring the wallcrawler. It's definitely worth a wank thanks to leading man Will Braun and pals.
Braun, shyly adorable and low-key, certainly has the looks to portray Peter Parker as he's been traditionally cast — he could be Tom Holland's cute American cousin — while singly named Tobias, as Harry Osborn, is tanned, brawny and charismatic. Their flip-fuck is a pleasant surprise and Braun displays an appealing intensity when it's his turn as topman.
Braun sports the familiar red-and-blue webbed costume when he rescues love interest Aston Springs. Fans of superhero cosplay ought to be mightily pleased to see Spider-Man fucking another dude — Springs is another handsome jock, like Tobias in the previous scene, although more lean — however, Braun never removes his mask, which plays erotically, given the scene echoes the Tobey Maguire films. Sexually, Springs does most of the work and he goes about his job eagerly.
The third and final vignette is the best match-up of the film as Braun takes on both Harry Osborn and his father, Norman, for a sensual threesome. Tobias and Myles Landon, as the elder Osborn, spit-roast a very willing Braun. Again, Braun's innocent good looks belie a very attractive sexual confidence. Father-and-son Osborns spray Parker with semen to close out the action (they do not interact). Kudos to Landon, who has enough gravitas to believably portray a supervillain.
Synopsis:
Will Braun is the nerdy web-slinger in Spider-Man, cumming into his own and onto beefy Tobias. Spidey then lets loose webs of cum with the assistance of Aston Springs. Spidey and Goblin have their final showdown as their identities are revealed to Tobias. The showdown soon turns into a hot frenzied fuck and suck threesome between spider-Man, Tobias and Myles Landon. Your Spidey-sense will be tingling like mad throughout!