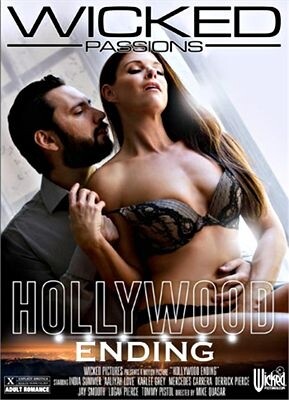 Veteran porn shooter Mike Quasar wrote and directed this sharp, touching tale of the ups and downs of a show biz marriage. It helps that he's working with Tommy Pistol and India Summer, two of the best actors in adult, who bring their characters to believable life.
They play aspiring actors who fall in love and get married. Her career takes off, his doesn't, and he grows resentful over the years. Both have extramarital entanglements. "Everything in our lives was incredible — until it wasn't" pretty well sums things up.
India gets involved with her controlling agent, well played by Mercedes Carrera. She tells Tommy that she takes care of her, as he has failed to do. India and Mercedes kiss — and that's all. It's puzzling that there's no sex scene between the women — two of porn's hottest — so we don't get to see the intensity of their involvement.
The agent turns out to be bisexual, in a big way. The scene between aggressive Mercedes and her horny boy-toy (Jay Smooth) is the most energetic and arousing in the movie. Tommy meanwhile is turned on to Karlee Grey, his ambitious assistant — and they do more than just kiss.
Other sex scenes include Aaliyah Love as India's bubbly best friend, with Logan Pierce, and Derrick Pierce as Pistol's buddy who gets seduced by two-timing Karlee.
There is a kind of Hollywood ending with India and Tommy tentatively reunited. She gets the rueful curtain line: "Right when I thought it was the end of the story, they had to throw in a plot twist."
Synopsis:
Rebecca and Tommy (India Summer and Tommy Pistol) met in acting school and thought they had the perfect life. They made their way up the ladder of success, but the view from the top can change your perspective. Love is put to the test when fame, fortune, and false friends conspire to tear a couple apart who were once everything to each other.