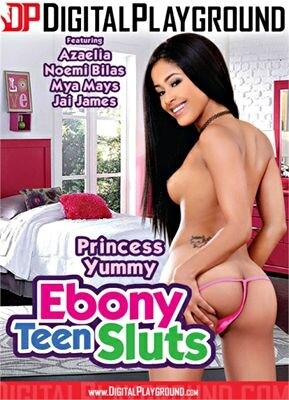 From Digital Playground, five black babes get reamed in five separate scenes, with each "ebony teen slut" putting in fine-ass (literally!) scenes.
As usual, the DVD cover model is placed there for a reason: It's Princess Yummy (brilliant name) and she's a total cutie, here burning up the scenery with a bald-headed schmoe whom I've never seen before. This episode, like two others on this title, concerns a step-chick fuckin' her white stepdad; with Baldy encountering Yummy while she's in the bubble bath; our stud being crowned with (not with a new head o' hair but) a lovin' blowjob, followed by some envious doggie (what an ass on Yummy!), passionate reverse cowgirl, more sweet suckin' and choice cowgirl (again, this fun-lovin' babe has one marvelous booty). But what makes the scene so great — aside from PY's killer bod (if not her absurd name) — is Yummy's way-upbeat attitude.
Noemi Bilas and Azaelia double team Ryan McLane, here playing the former newbie's on-screen stepdad, and it's a boner-burster. While Noemi isn't classically gorgeous, she's got a wonderfully whorish attitude (perfect for porn, right?) and one truly delicious dark-skinned figure. She's also totally into kissing McLane (who gets lucky enough to fuck her in another "Ebony Teen Sluts" scene later on), while the two-tone-haired Azaelia doesn't go untapped, neither! But it's Noemi who basically orchestrates the scene, jumping in to suck sword or ride rod whenever she gets a chance, with our girl particularly rockin' during cowgirl.
Next up, Mya Mays is the sweetest of all of five ebony babes, playing a pizza girl who gives Kyle Mason the delivery of his life. In the pizza kitchen Mya sucks with plenty of eye contact, while (like Noemi) she's always up for a kiss, and sincerely hits home during standing doggie.
Jai James is a black British brick shithouse who burns Danny D's dick down to ashes. Jai, actually, has great eyes, but for some reason she's wearing shades throughout her scene. Pity. Still, that doesn't negate the heat released here. Wearing one o' those London taxi driver caps, Danny looks rather goofy, but he fucks this tart silly. Jai gives the gnarliest blowjob in the entire movie, i.e., deep with loud and vulgar sounds. She's a vision to behold, by the way, with her bountiful black backside bouncing during cowgirl, though I think her doggie session was somewhat under-covered in terms of sizzling angles. And, hey, check out how Danny just explodes his jizz all over this sexy bitch's mug.
And we finish with a strong segment, indeed, as both Noemi Bilas and Ryan McLane get to seriously ravage one another — yet again! As I mentioned earlier, Noemi has an amazing little bod, using it well in all positions, with one of my faves here being cowgirl, as her born-for-porn ass cheeks ripple like mad. And those amazing butt cakes shake even more during doggie. Wow! You get an even better view of her near-perfect bod with missionary, during which Ryan totally dunks his sinker into Bilas' velvety slit, with Noemi lovin' every wrinkled inch of her Cock-asian lovin'.
"Ebony Teen Sluts" doesn't have a bad scene, nor a bad babe; but keep your eyes — and yer pants! — peeled for cute PY (that's, ahem Princess Yummy) and the incredibly lusty Noemi.
Synopsis:
Beautiful black babes who get excited about banging big white cocks! Their sweet pussies are so tight, they'll make anyone feel like a pornstar! Enjoy how these Ebony Teen Sluts get down!