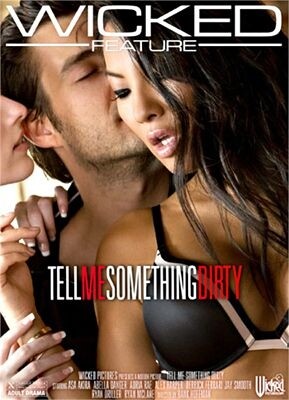 Asa Akira stars in this Wicked feature, playing a hottie who puts her life together after her lover is tragically snuffed, with a quintet of strong sex scenes to get you off; two of 'em especially rockin' 'cause they star awesome Asa.
We start with Ms. Akira gettin' rather heatedly down with Ryan Driller. Asa gives a killer BJ, and there's nothing like seeing her bent over and takin' it doggie, except when she's doin' cowgirl — even when there's a condom involved (as is the case, sorry, with all of the sex scenes in this title). Surprisingly, anal queen Asa doesn't take it where sun don't shine, but it's a spirited boinking nonetheless. And how Ryan Driller keeps his back so incredibly straight without snapping it during missionary is definitely a mystery to yours truly, lemme tell ya.
Anyhow, a year after Ryan's character dies — both his bicycle and he are turned into cream corn by an SUV — Asa goes on the hunt for some meat in her cunt, though she wants to be romanced before getting boned. Since she likes people talking dirty to her, be it man or woman (note the movie's title), Asa gets into listening to her gal pal, Abella Danger, tell her about humping her own fuck buddy, in the form of the much-older Ryan McLane (yes, another Ryan). As usual, Abella gives a phenomenal suck-off, even to a dude old enough to be her pappy like McLane. It's truly horny watching big-bootied Abella squat on McLane, her butt cheeks really gyrating, while it's just as amazing seeing her lil' tits shake during mish and spoon. But what? No doggie from this doggie-fuck queen? Damn. I'm slightly offended here.
Getting a bit desperate for male attention, Asa next calls a male prostitute for a "date," hearing the guy, played by Jay Smooth, passionately screwing his girlfriend, Alex Harper, over the phone. After the very uptight Asa gets totally pissed off at the "call guy" on the blower and hangs up, he proceeds to really seed bitch Harper, a fair-skinned babe with pert tits and a way-pink twat. I particularly like how Smoothie slams Harpie doggie style whilst standing — twice even! — while her all-natural tits look superb in any position, especially during reverse-cowgirl. I wanna see more of this fox-a-roo!
Next, Adria Rae, playing another one of Asa's gal pals, gets decidedly nasty with Derrick Ferrari (there's a real name for ya). Rae & Ferrari (sounds like a cop show, dunnit?) offer to have a threesome with Asa, but she's just too uptight and lost without her dead beau, eventually leaving Rae and Ferrari to fuck like wild animals. I like how Adria puts lotsa spit on cock when sucking said boner. She's great riding dick a la Derrick cowgirl style — love those meaty butt cheeks on Rae! — while her tight bod looks amazing during spoon. Though, as with Abella, there's no doggie here. Grrr.
The final scene is, thank goodness, with our delicious star Asa, this time, she by chance running into the call guy Jay Smooth on the street, quickly hooking up with the mallet-headed dude for some smokin' penetration, including (yes!) anal. I like how he calls her "a hot little piece of ass" (haven't heard that line in a movie in a while), and Asa quite visibly digs it, too, letting Jay take her to his loft where he slams the livin' shit outta this ultra-fine Japanese-American sweetie. A superior BJ from Asa is followed by cunnilingus, more cocksucking, some cowgirl (look at Asa's ass cheeks wail away), mish, and (yes!), missionary in the cunt then the ass, doggie anal (always the very best with a sincere sphincter slut like Asa, who keeps panting, "This is just what I needed," and, no, not with "The Cars" playing in the background, either), all of which cunt-cludes with an explosion of cum all over Asa's anus.
"Tell Me Something Dirty" is a good little feature, fine for couples and, equally, a treat for truly hardcore fans of fine bitch Asa. Too bad there aren't more scenes with Asa, who can easily carry a movie all by herself. She is a damn good performer, whether a cock is in or out of her various orifices.
Synopsis:
A year after losing her soulmate in a tragic accident, Asa (Akira) is finally ready to try dating again. Shut down and feeling a little helpless, she finally tries everything from computer dating,ing with friends, and even calling a male escort. All with disappointing results. Asa's quest to rediscover her sexuality is further complicated by the desire to be truly dirty. In the end, she comes face to face with the one man who actually speaks her truth. Will she let her guard down and ask more of him than simply telling her something dirty?