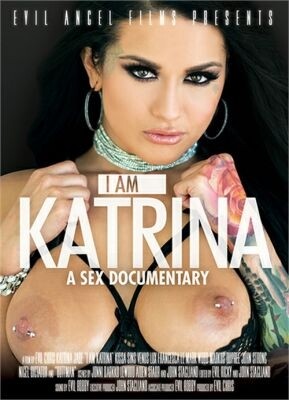 The woman. The myth. The legend. 2017 XBIZ Female Performer of the Year. First-ever Evil Angel contract star. No words can ever fully ever describe Katrina fuckin' Jade. She walks the walk, and talks the talk. With "Slut" emblazoned proudly on her juicy cakes, her rosy little pink nipples (also her clit!) pierced and "Daddy's Girl" etched above her snatch — it's only fitting that a showcase of this caliber, of this greatness, was delivered by a company so viciously on the forefront of adult entertainment.
The union between Katrina and Evil Angel is a match made in heaven — no … a match made in hell. Why? Because this release, which seamlessly incorporates the classic documentary style and a porno, is absolutely hot, hot, hot!
Dubbed as adult's first-ever docuporn, "I Am Katrina" entrusts several different, and equally talented, directors — Jonni Darkko, Aiden Starr, LeWood and John Stagliano — to showcase Katrina Jade in all her villainous glory via their unique viewpoints.
The showcase starts with the camera panning over the dark princess' perfectly-shaped body as she takes glam shots. "She is a dynamo," echoes Darkko in the form of a voice-over. "The minute there's cocks in her face, she's alive." His commentary is then followed by a mini-montage of Katrina's sex scenes and modeling.
The brunette beauty soon appears in front of the camera, sitting on a comfy looking brown couch. She explains how she got her start in the adult biz.
"I was, like, watching this porn one time and I thought … 'I wanna try that!'" Katrina tells the camera, smiling. She continues by stating that her first shoot was a live, fem-dom bondage show where she was the bottom. She briefly mentions how she progressed from not taking the industry seriously as a job, to finding her niche in porn and really making a career out of it.
As she talks about her life, "I Am Katrina" takes the viewer to Katrina's hometown in Antelope Valley. "It's disgusting, it's terrible," Katrina admits. "It's hot, and it's gross." She delves into her family background and explains that her mother is "a short, blonde southern woman who is Mormon, very conservative … very right wing." Her dad, on the other hand, "was the exact opposite."
The first sex scene in the showcase is helmed by Darkko, who Katrina explains she absolutely loves. "Everything he shoots is flawless," she purrs. "The nastier I am, the more positive feedback he gives me!"
"I Am Katrina" takes you really behind the scenes; Katrina appears without makeup (she still looks flawless) and informs the viewers of the downside of having an anal scene — she hasn't eaten, and she's been washing her butt all morning!
Markus Dupree and John Strong get to fill up Katrina's holes first. Markus is all smiles as he kisses Katrina on the cheek before they start filming. "Her pussy is like butter," the Russian star compliments. It elicits a loud laugh from John and Katrina. "And when you go inside her pussy, you want to cum right away. And, you know what's the most important … she has so much light inside herself." (Aw!)
Luckily for the viewer, Markus does not cum right away. Instead, he and John manhandle Katrina with ease. The petite superstar wears nothing but a studded, black stringed outfit that leaves absolutely nothing to the imagination. Her fine tits are on full display, and when she bends over, her cute, lil pierced clit says hello. The boys, on either side of her while she is standing up, flick at her clit. "I want you to use my little asshole … please," she begs Markus. He kisses her in reply, while John slaps her ass.
They drag her to a sleek white couch, where they take care of her ass enthusiastically. The scene is explosive. She gives both of them alternating blowjobs, then welcomes their dicks into her asshole by spreading her cheeks. While John plows her ass, Markus gets right in her face, literally! He plants his asshole directly on her mouth, and moans when Katrina laps it up. Even though all three want to get some DP action, they're warned by Darkko that it's not allowed for this scene. The encounter wraps up with Katrina, face and mouth full of jizz, smiling.
The next scene is directed by Francesca Le and Mark Wood. Before getting directly to the sex, we, of course, get some insight into Katrina's everyday life in true documentary style. She fills out her talent paperwork, and talks to the camera about her husband, Nigel Dictator, while getting her makeup done. Francesca and Mark get Katrina all dolled up in a hot pink and black leopard print bikini.
"She was very straight to the point," Katrina comments. "Very cut and dry. I really respect that. But, then they were also very, 'Honey, just so you know … we're going to do this.' They made sure I was comfortable with everything."
All three talk about Katrina's anal experiences, and how honored they are to be involved in Katrina's second-ever on-screen anal. Katrina briefly explains her on-screen donts, which is no nipple piercing because they bleed. After a couple of glam shots, and Francesca explaining how it's done on a LeWood set, we finally get to the second sex scene! In this scene, Francesca and Mark play two Evil Angel casting agents, and they're on the hunt for the first-ever Evil Angel contract star. Mark brings in Katrina to try out for the spot … and she nails it!
The beautiful Francesca starts off by scoping out Katrina's ass. She licks it once, for taste, then spits on it to check tightness. Mark gawks, ogling both beautiful women as they embrace one another. Eventually, Francesca pulls out a glass dildo and inches it slowly into Katrina to get her ready for Mark's thick piece of manmeat. A highlight of the scene is when Katrina rides his dick, and Francesca gets a finger up Katrina's asshole, then tastes it! Mark gets to dip his dong into both girls, who taste each other's pussy. Yum, yum!
The second scene wraps up disc one, with disc two featuring scenes directed by the fabulous Aiden Starr and the deliciously naughty John Stagliano.
It opens with Aiden, Katrina and TS performer Venus Lux getting tested. Katrina briefly details what goes down, and explains that she "came back clean the first time!" Even after all that civilian sex! Then, Aiden takes them on a mini-tour of Evil Angel headquarters, where Venus and Katrina scurry off and explore on their own. They stumble into John Stagliano's office, and marvel at his collection of "Buttman" posters. The sexy girls leave John two cutesy notes for him to read later.
Back in the conference room, Aiden helps lay out the plan. There will be no anal, unless Katrina fucks Venus with a strap-on, which she hungrily agrees to!
"Working with Aiden was great, because there aren't a lot of female producers in the industry," Katrina admits. "When there is a female producer, it's very refreshing. It's like, 'Ah! I see you. You're a crazy bitch, too! You're dirty and filthy. I love it!'"
Aiden's set is a mix of modern and rustic architecture. The bed is white, and the walls are made of brick. Both girls wear all black, with dark shades of makeup. "It's kind of an Evil Angel hallmark that we use natural light," Aiden explains, then goes into detail about her own shooting style.
When the girls finally get to taste each other, it's everything Katrina has dreamed of and more! "I've requested her my whole career," Katrina laughs, and makes Venus smile. She offers herself up to Venus, legs spread and coochie facing the camera. Venus kisses her very tenderly — this scene is immediately more romantic and soft than the other two. Venus eats Katrina out for a long, long time. She flicks her tongue at Katrina's pierced clit, nibbles on her pussy lips and tongues her hole consistently. It drives Katrina wild!
Katrina, of course, returns the favor. She sucks Venus off, tickles her balls and takes the shaft all the way down her throat. Eventually, she mounts Venus' hard dick and rides her silly. She bounces on that dick like her life depends on it. Their chemistry is palpable — they're both beyond into it. Venus looks Katrina right in the eyes as she pops her load inside Katrina's juicy pussy. It's a gorgeous, and beyond sensual, sight.
"I am very honored," Venus gushes. She is all smiles following her amazing performance. "I am very honored to be in this position, to be able to work with the awesome Katrina Jade. Her energy really came across the screen. I was definitely captured by that and really captivated … I think this is going to be my top favorite shoots so far."
Last, but certainly not least, we get John Stagliano's take of Katrina Jade. He pairs her with the irresistible Kissa Sins, who also happens to be "married" to Katrina.
After some cutesy back and forth between John and Katrina, she explains their first time meeting. John talks about his classic "Buttman" scene, and how he doesn't really want to shoot one anymore, because no one wants to jack off to their grandpa's porn! With enough convincing from both girls (Kissa's on speaker phone), the plan is set into action.
"I think he's like, so cute," Katrina laughs when she talks about John. "Like, the way his mannerisms and everything are so interesting. The way he does things is very different from anybody else that I've met in the business. Any other director, any other person who has been in the business for over 20 years … he's by far the most interesting man."
John, Kissa and Katrina head to the beach — a very public beach! The girls wear itty bitty bikinis — Katrina's is black and Kissa's is pink. John watches, talking to the camera in all his "Buttman" glory, and explains how he noticed two hot girls on his drive and he just had to have them. He chats 'em up, and helps them get sand off their booties, before taking them home.
Both girls show off their bodies, and bend over for John. Katrina lets John know how attracted she is to Kissa and vice versa. Soon, they start fucking. Kissa truly knows Katrina's body, because she eats her out like a champ. Katrina practically melts in Kissa's touch. Highlights of the scene include Kissa spitting into Katrina's spread pussy, and then Katrina roughly fucking Kissa from behind and choking her by shoving her fingers down her throat. To end the scene, the girls jump into the pool and shout how much they love each other. For fans of really hardcore sex filled with real-life intensity … this is the scene for you.
To wrap up the showcase, Katrina describes her long-term plan for the business.
"My plan is to make a name for myself as much as I can, make a lot of money and have a lot of sex," Katrina concludes. "I do understand from what other people tell me that the industry is constantly changing, so I can't really say what I'm going to do … because I don't know where the industry is going, but I do want to stay! I don't ever want to give my brand away and make it a commercial thing. I want to be my own entity that people can say, 'What the fuck!?' My favorite thing to say is … I wanna be the reason why people do bad things. I feel like that's what I want my legacy to be."
Evil Angel is really onto something here. The docuporn format is remarkable — it brings the viewer closer to the star, creating an emotional connection like no other. I loved the way Evil Angel effortlessly managed to create transitions between serious, documentary-esque scenes and the downright, dirty fucking. "I Am Katrina" is a new breed of pornography, folks. Evil Angel did it first, just like they did gonzo. Don't forget it. #Villains.
Synopsis:
Evil Angel Films presents glamorous, outrageous Katrina Jade in four innovative hours of "docu-porn" reality that combines candid interviews, a visit to her hometown, backstage XXX biz operations and four new hardcore scenes shot by top directors. The result is I Am Katrina, a cinematic look at a real person's private and very public sexuality. Exotic, dark-haired Katrina shows us the homes and schools of her misspent youth and then proves her genuineness in an anal double-dicking captured by Jonni Darkko. Model-style tease exposes her fabulous body and rad tats ("Slut" marks her hot butt, "Daddy's Girl" is above her pussy). Two studs ravage her dirty mouth, bald gash and hungry asshole. Katrina and husband Nigel discuss their "hotwife" lifestyle -- "you get stoked when your wife bones other people," he explains. Behind the scenes of a swinging anal threesome with married LeWood pornographers Francesca Le and Mark Wood, we see wardrobe, makeup, photos, anal warm-up and more. The camera follows Katrina to an STD testing center and the Evil Angel offices for pre-production of a TS encounter. Director Aiden Starr shoots Katrina and Asian trans beauty Venus Lux in a glam, passionate fuck with a creampie climax. Katrina and adorable "wife" Kissa Sins twerk shamelessly on the beach in classic Buttman action from John Stagliano. He can't control their frenzied, slobbery lovemaking and laughter. The legacy Katrina hopes to leave: "I wanna be the reason people do bad things."