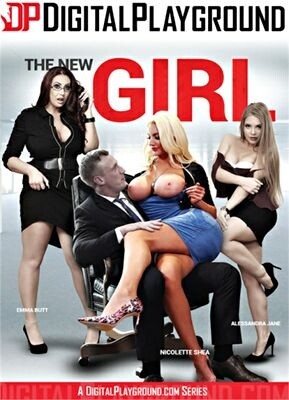 Big tits rule in this comedy of office intrigue, Brit-style. Blonde Nicolette Shea (an American with 36Ds) wants boss Luke Hardy to divorce his wife so she can get "a ring and a house." They fuck on his desk, and it's quite a lusty fuck as Nicolette grinds her ample hips on Luke's pumping dick.
Luke's wife, Emma Butt (34GG), has her own schemes. She says her husband needs "a new mistress," so she can video them fucking and get a lucrative divorce. She hires Euro cutie Alessandra Jane as an intern.
Nicolette is hostile to the new hire and tries to beat her up. She's rescued by office worker Danny D who fucks her in the copy machine room. They discover that Nicolette's necklace contains a USB drive with all the company secrets on it. They scheme to get it off of her.
Nicolette has the funniest line, to Danny: "You don't have a big dick, I can tell." She almost faints when he whips out his foot-long schlong. She does look hot getting boffed in reverse cowgirl.
Luke finds the computer drive and confronts Nicolette. "What's not fair is that you won't leave her for me," she tells him.
Luke and Emma reconcile, then get together with Alessandra — who is a divorce lawyer undercover — and becomes a live-in threesome. "Who wants cock for breakfast?" as they all wake up together.
Synopsis:
What do you do when you want to dump your husband and get a plump divorce settlement? Set him up with another woman and catch him cheating! Unless he already has a mistress - then you'll have to cut that bitch out too.