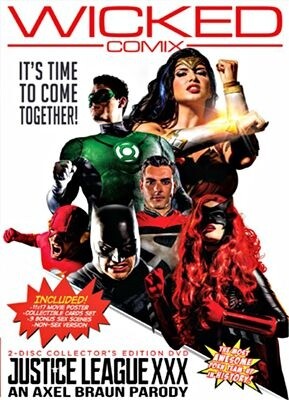 I'm a fan of porn, and I'm also a huge fan of superhero movies ... superhero TV shows … superhero comics … you get the drift! And a superhero porn parody? Right up my alley. With that said, I had high expectations for Wicked Pictures' "Justice League XXX," directed by the XBIZ Award-winning Axel Braun and featuring a stellar XBIZ Award-winning cast. It really delivered. From the storyline, to the special effects … "Justice League XXX" went above and beyond!
This feature brings some friendly new faces to Braun's squad like The Flash, Green Lantern and the two ladies I've been dying to see together — Wonder Woman and Bat Woman! Romi Rain, as Wonder Woman, gives one of her best performances yet and really shines as the lead, in my opinion.
I won't go into too much detail on the storyline, but in "Justice League XXX," Wonder Woman tries her hardest to assemble a team of superheroes to fight off the intergalactic bad guy threatening Earth. For added drama, Superman and Batman have both hung up their capes and given up on being super lads.
In the first scene, Romi Rain shows off her muscles by boxing with Dana Vespoli, who plays a character named Lefty. Romi accidentally punches Dana too hard, which leads to an apologetic makeout session that is interrupted by Xander Corvus, the Green Lantern. He explains to Romi that he wants to help save the world, but Romi isn't convinced! Not until Xander gives her a good dickin that is ...
Xander, as always, proves why he deserves to have the reigning title of XBIZ Male Performer of the Year. He fucks Romi real hard, pressing her up against the ring's ropes and dropping to his knees to eat her out for behind. Romi wraps her lips around Xander's hard dick and then she spreads herself open, inviting the Green Lantern to light up her life. He pops his load inside Romi's mouth and it dribbles wonderfully down her chin.
Up next, Jessa Rhodes, who plays Knockout, has also been sent to Earth to recruit Superman to the dark side (oh, wrong parody!). Ryan rides around on his tractor and drinks liquid Kryptonite to suppress his powers. Supes denies Jessa's pitch to join the darkside, which prompts her to convince him in a different way.
Jessa wears a cutesy green costume consisting of a neon jumpsuit and a matching mask. She keeps it on the whole time Ryan plows into her. The camera takes a special focus on Jessa's banging body, and pans over Ryan's muscular build too. He nails her in a barnyard, and really gives her a hard fucking. She practically squeals every time Ryan gets balls deep. To wrap it up, Superman drops his super load all over Jessa's chest.
Third scene introduces the highly-anticipated Bat Woman, played by the gorgeous Charlotte Stokely. I gotta give it to Braun with the costume design. Charlotte fits perfectly in the role, and does a spectacular job in her scene with Romi. The duo get it on after Charlotte initially rejects Wonder Woman's call to action. Charlotte keeps her costume on the whole time, while Romi exposes her bouncy breasts and almost gets fully naked. There's plenty of pussy eating action, and even some scissoring. For fans of G/G, this one's bound to keep you on Cloud 9 for a long, long time.
After, we get a little break from Wonder Woman's journey and see what the iconic Cat Grant, played by the always stunning Jessica Drake, is up to. After interviewing Lex Luthor, Derrick Pierce, he and Jessica get cozy in the dressing room and even assistant Katrina Jade joins in! Derrick watches dutifully as Jessica and Katrina passionately make out, fumbling over each other's body, before they both take his dick on. Each girl gets a serving of his hard cock, and eventually a load of jizz over both their pretty faces. I'm a huge fan of all three performers separately, so to see them together is a dream cum true.
The film wraps up with Wonder Woman, again, only this time with the Batman (Giovanni Francesco), the newly introduced Flash (Tyler Nixon) and the Green Lantern. Romi puts her mouth on Batman's dick first in a sweet reunion, then blows every superhero in the lineup. After some sloppy blowjobs, each caped crusader gets a turn to smash the irresistible Wonder Woman. The foursome really cum together, solidifying the Justice League agreement. Go team!
If you're a fan of superheroes and have always wanted just a little more from your comics, Axel Braun is offering up a top-notch feature. Romi Rain acts her ass off, and makes for a very charming (and convincing!) Diana Prince. In addition, there's also a nonsex version included in the two-disc set, which means Movie Mondays can be a whole lot more interesting. This one will fly off the shelves!
Synopsis:
The King of Parody is back, with the biggest and most anticipated Adult movie of the year! Legendary director Axel Braun unites the heroes of his DC AxelVerse in more ways than one, in this epic Wicked Comix mega-production. With a stellar cast headlined by the ferociously sexy Romi Rain as Wonder Woman and a phenomenal Charlotte Stokely as Batwoman, Justice League XXX: A Porn Parody will show you why it's time to COME TOGETHER!