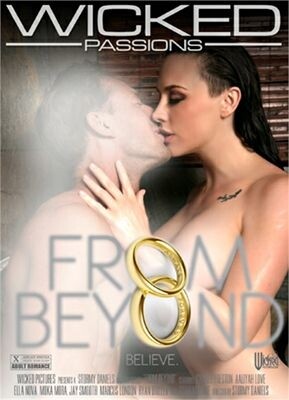 Writer-director Stormy Daniels ventures into the supernatural for this Wicked Passions couples film. Chanel Preston plays a successful realtor happily married to computer programmer Ryan McLane. Their sex is mutually fulfilling. Ryan is best buddies with financier Marcus London, who has a shady side he's unaware of.
Ryan accidentally finds out that Marcus is a crook and has been cooking his books. He's about to uncover the crime when he is mysteriously killed in a traffic accident. Chanel is devastated. Her best friend Aaliyah Love sympathizes, then has sex with hubby Jay Smooth.
Ryan comes back as a ghost and tells Chanel, "You're in danger." She has lunch with Marcus who looks stressed. To relax he fucks his secretary Moka Mora.
Chanel and Aaliyah visit a medium (Kylie Ireland) to contact Ryan's spirit. They all get a shock when the lights go out and the table moves. Ryan's spirit returns to make love to his wife in the shower. It's a good hot scene even if it's supposed to be not real.
Chanel asks Marcus about what secret her husband may have been keeping. Meanwhile Ryan's daughter Ella Nova finds a flash drive with incriminating info in her dad's jacket, and Marcus is arrested. Chanel realizes that her husband's spirit watches over her.
Synopsis:
Sofia (Chanel Preston) and Michael (Ryan McLane) have the perfect marriage. When Michael is tragically killed, Sofia immediately notices strange things happening in their home. She cannot shake the feeling that he is "still with her". Sofia's best friend (Aaliyah Love) convinces her to speak with a psychic, who tells Sofia that Michael is trying to warn her. When Sofia confronts her husband's friend about some of the details of Michael's death, the truth comes out, but will Michael's love be enough to protect her from beyond the grave?