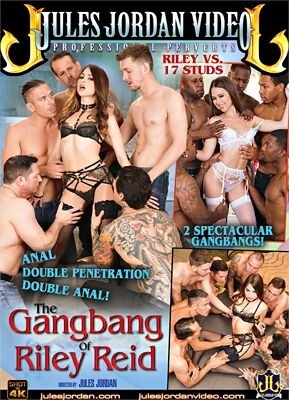 When Jules Jordan wants something, he usually gets it. And that includes this amazing brace of gangbangs featuring the three holes (mouth, cunt, anus) of 26-year-old Floridian fox Riley Reid; the two multiple-dick invasions being divided on one disc between the "white" and "black" gangbangs: the former being eight (that's what I count) Caucasian cocks, the latter being eight (again, that's what I count) dark dicks. And both of 'em rock the people's cock!
After some glam footage of RR in a big hot tub, fulla lotsa suds, she gets down and dirty with lotsa white studs. This wiry cutie was absolutely made for such a rough intake of cockmeat. She meets them, all lined up along a staircase, kisses each one of 'em, before really meating them, as she dives deep into a blowbang, with incredibly rude and vulgar (yeah!) guttural noises emitting deep from her throat, as well as plenty o' spit.
The group o' dicks start doggie-fucking her pussy soon enough, while she's standing and suckin' prick after prick. Her ass is busted mish style, with everyone soon takin' a crack at crack, with some squirting inevitably erupting. Doggie anal is next, then an amazing doggie DP, with guys taking turns in her hot, sweet, sticky anus; followed by a standing DP, with a revolving cast o' cocks; then reverse-cowgirl DP, which leads to some (whoa!) double-anal pounding, and a choice ATM (offa Markus Dupree's ding-a-ling); there's more double-anal delving with other cocks; and finally — blast off! — the boys bathe her face, one or two dorks at a slime, in ball-batter. Wowie!
Next up, the black brothahs are at bat with Riley, proving themselves just as hard-hitting and unrelenting with the fine, filthy bitch as their white cock counterparts. After more glam footage, Reid inhales (with mouth, twat and turd bin) many feet o' black cock, starting with a gnarly chocolate stick blowbang, during which some of the fellas turn her upside-down and really stick it to her semenly bottomless throat. She soon, however, starts taking dick, a la Riley-cunt, doggie style, while still chug-a-luggin' choco-stick, with tons upon tons of spit. Then she switches to mish-vadge — the guys still slappin' huge black vines upon her hungry mouth — followed by mish-anal, with the lads laying lotsa pipe into Riley rectum; pro-seeded by a doggie DP, with the boys pullin' a train on her shithole (it's wonderful! — she has such a fantastic fanny, too!), and it's a train for a good long time, as(s) well; then we have a reverse-cowgirl DP, with the gents taking turns on her ever-moist twat (lotsa "whoo-ee's!"); before our black bros start squirting one at a time upon Reid's pleasant-to-view(-and-spew-upon) mug, while she's still getting heartily hammered mish style. The whore just can't get enough!
And who the fuck can ever get enough o' Riley Reid? — well, with this unbelievably decadent double dose o' gangbangs, you'll surely have your fill of the horny, insatiable (love her!) tramp. Brilliant!
Synopsis:
Riley Reid goes up against 17 hung, horny men and everybody comes out on top. The wait has finally paid off, and with INTEREST, as Riley takes on TWO HUGE GANG BANGS in this depraved, hardcore showcase. Little Riley may be all grown up, but her youthful looks and tight body are looking better than ever when she's put to the test by 8 BIG white cocks. The spinner is tried and tested as the 8 men pass her around and sample her supple mouth, her tight pussy, and even manage to stuff her booty with DOUBLE ANAL! But this petite queen of interracial wouldn't be satisfied without an even BIGGER, BLACKER gang bang; 9 more cocks, all BBC, smother and cover Riley in her ALL INTERRACIAL gang bang that leaves her a beautiful DP'd mess. Watch the adorable Riley Reid like you have never seen her before in TWO of the most amazing gang bangs you will ever witness! Will her holes ever recover?