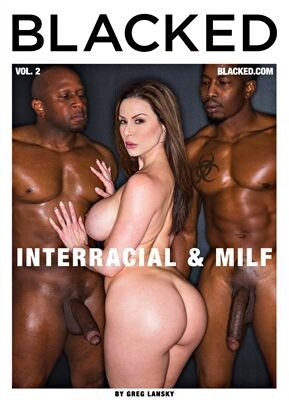 Older, bolder white chicks get down with the bruthahs, with special surprises including ultra-fox Kendra Lust and tight-bodied Brandi Love each sucking and fucking two bros apiece, while Mona Wales takes a big greasy johnson way up her crapper in the movie's blistering finale. Sweet stuff!
And our movie does, indeed, start off with a bang, as one of my all-time favorite MILFs, 39-year-old big-boobed/lush-assed beauty Kendra Lust, slurps down two hefty ebony vines with her hungry mouth and insatiable twat. In the story, Kendra plays a true whore, staying married to her small-dicked hubby because she's in love with his money (there's a whore for ya!), but, to satisfy her slutty urges, she invites big-bonered black men to her elaborate home when husband's out golfing (she's a great whore!). There isn't a bad position with Kendra, simple as that. But one of many truly showstopping sequences includes Lust's arousing session o' double-dick shucking, including face-fucking and lots of always-welcome eye contact from the delicious-looking, cheating hussy.
The other interracial/MILF anecdotes aren't anything to scoff at, either. Sizzlingly sculptured Brandi Love takes on the cocks of her stepdaughter's pals, with the best moments (among many!) being when she gets the shit doggied outta her, receiving a few choice smacks across her butt cheeks, and when both dudes bathe her mug with oodles o' sperm.
Hard to believe that anal queen Ashley Fires doesn't take it up her butthole in her scene, but her tail isn't any less scorching. Fires plays an over-glorified secretary who sluts herself out to some hotshot rap star, with extreme gusto. Rewindworthy moments include Ashley seriously choking on bone, and for a good long time (she's such a marvelous tramp), as(s) well as rimming the lucky bastard (nasty!); doggie pumping of the sexy-as-hell vixen (twice, even!), with a few terrific slaps upon those fine Fires' ass cheeks thrown in for good measure; and an extremely passionate, energetic plunging o' Fires' twat missionary style, with bro batter blasting all over that hot-pink cunt. Yes!
Lastly, Mona Wales gives us a whale of a good slime when her rectum gets wrecked. Married to a kinky bastard, Mona tells her husband that she's gonna seduce and fuck a black handyman when he's out. The bent hubby loves it, even though he's not there. Sick fuck (although he does show up at the end of the salacious segment).
Mona might not be classically beautiful, but she's amazingly alluring. And check out how she deepthroats that prick. Wow! Talk about a human Hoover vacuum! See her eyes water? Whew! Love it, too, when she wildly rides that member with her cunt during cowgirl. She even squirts like a fountain (damn, girl!) when he's slappin' his fat slug against her twat during missionary. It's no less awesome when the fella slides it into her poop pit during that same position, with Mona licking her crap off his still-steaming cock faster than you can say "ATM, bitch!" Reverse-cowgirl anal is filthy as fuck, with the gent really drillin' for nuggets. I just wish doggie were longer and with more visible penetration, as they do it standing and in-profile. Hmmm … Still, this decadent wench is an all-around winner.
In fact, each and every volcanic scene in Interracial & MILF makes it a wanking winner. Hell, just the nuclear threesome featuring killer Kendra alone makes this one worth getting. These vintage vaginas know how to suck and fuck! Don't miss it.
Synopsis:
BLACKED.com and Greg Lansky, are proud to present Interracial & Milf Vol. 2. The critically acclaimed series is back, showcasing the hottest MILFs in interracial performances you can't find anywhere else. Cover model and legend, Kendra Lust, plays sexually frustrated trophy wife cuckolding her husband with two dominant men she meets at the gym. Also featuring an exclusive BLACKED.com threesome with Brandi Love, and unforgettable performances by Ashley Fires and Mona Wales. With the high-end production value, breathtaking locations, and captivating story lines BLACKED.com is known for, Interracial & Milf Vol. 2 is a cinematic experience not to be missed!