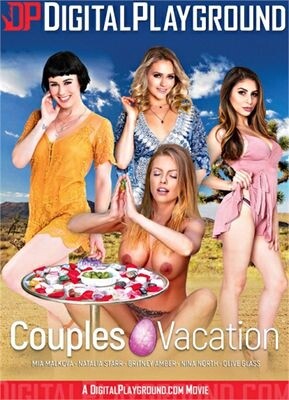 This lightly satirical comedy stars real-life twosome Mia Malkova and Danny Mountain as a feuding couple who join three other such pairs at a New Age-y mountain retreat run by yoga guru Britney Amber (looking terrific). They argue and bitch at each other, as do Natalia Star and hubby Tommy Gunn.
At the first group therapy session Britney gives the ladies a "yoni egg," which looks like a big green bean, to insert in their vagina. It's supposed to keep them from thinking about sex for the whole weekend. Good luck with that!
"My yoni isn't the problem, it's my husband," says Nina North of spouse Chad White. She's horny and even makes a play for the busty guru. Olive North has a spat with workaholic husband Ryan MacLane. When Britney has the four couples play a game with the girls blindfolded and the guys drawing names, sex really does break loose.
"Who's not wearing their egg?" Britney exclaims as one falls in her coffee. She gets off on probing Nina's pussy, but Chad White pops in just in time for a threeway. After an outdoor "group meditation," all kinds of spouse-swapping goes on, climaxing in some four-way action with Mia-Danny and Olive-Ryan, ending with a cum swap.
The pace is brisk and the actors are good, but Mia is especially radiant. This is a fine showcase for her beauty and charisma.
Synopsis:
What would you do to save your sex life? For four desperate couples, they'll try anything, even a kinky couples retreat! But when the couples take their sexual swapping a little too far, a therapist mandated orgy may be the only thing to make these couples recommit.