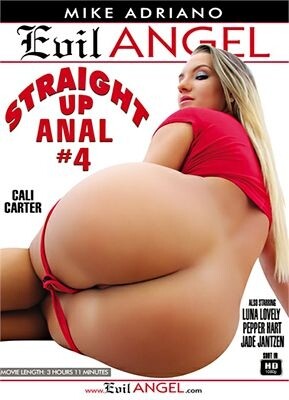 Three fairly new chickies (Luna, Jade and Pepper), along with a relatively veteran tart (Cali) display, with performer Mike Adriano in the driver's seat, what nasty anal sluts they really are — and, boy howdy, are they!
Luna Lovely (22, from Arizona, and of — yeowza! — Persian descent) is definitely one of this gonzo's highlights, always smiling and harboring a great suck-and-fuck attitude throughout, particularly as she gets her backdoor heavily slammed. She gives one of the most incredible blowjobs, by the way, sucking deep, while constantly revolving her mouth/head around that little head. Such a pretty dame, too! And check out all o' the spittle she magically produces! I could watch (and beat to!) her sucking prowess for hours (or at least 15 minutes, before blowing my load). Luna sucks for a damn long time, too! Mikey eventually rams his over-sexed log into Loon's oiled up bog, spoon style, giving us a wildly juicy-assed erotic treat, indeed. And Luna hardly shies away from a dirty ATM, either! Doggie anal, of course, is abso-fucking-lutely amazing, with our boy shootin' his load not too long after taking up that same position. Don't blame him! Just wish the scene were longer. Yep, Luna is that awesome!
Well-toned, compact and tanned Cali Carter (27 and from Sacramento, Calif.) is next, offering up lotsa wet kisses, a lips-to-the-base-o'-cock BJ (with oodles o' spit), some (phew!) man-ass eating, a forever-winking anus, some well-greased 'n' pounding ass-fucking positions (with spoon and doggie being my faves) and inspired/never-cheating ATMs, proving what a consummate tramp she is.
The extremely pretty, exotic-looking (of unique German and Russian roots), olive-skinned, 24-year-old brunette spinner Jade Jantzen is next on the fudge-fucking list for Adriano, and it's a doo-doo doozy of a salami-slammin'-sphincter scene, lemme tell ya. Like Luna, Jade is oh-so-gorgeous. And nasty. She's a marvelously deep, loud, messy (a good thing!) cocksucker. No anal position, by the way, is bad with Jade, even missionary is a rectal revelation, her anus is that hungry — and her milk-chocolate-pigmented cunt is just so meaty looking! Adriano wears some hilarious-looking blue mittens during doggie, and this gnarly position produces truly volcanic heat. I demand to see more of this true beauty! After viewing (and spewing to!) this scene, you will, too!
Finally, we have sweet-looking, fair-skinned, redhead, juicy-bodied Pepper Hart, who looks (and acts!) much younger than her 28 years, first delivering a passionate blowjob, while she should not be missed taking it up the crapper in the spoon position, as well as licking her own juice offa Mikey's wrinkled wand (a number of times, even!), while deep doggie up the (at times gaping) anus attached to Pepper's fantastically succulent butt is quite a showstopper, with Pepper hornily, frequently pushing her big cushy tushy against Adriano's groin; and I'm glad that Mikey (finally!) fucks a little vagina here (one should never waste it, son!).
"Straight Up Anal #4" is a truly rockin' gonzo, featuring deliciously nasty babes (and two with whom I'm definitely in love: namely, Luna and Jade). All in all, great stuff(ings) here, folks!
Synopsis:
Director/butt fuck freak Mike Adriano knows that when you want to stuff a hot slut's asshole, the direct approach is usually best. In Straight Up Anal #4, lusty ladies appreciate Mike's no-nonsense style - they eagerly spread their sweet buns and his massive meat goes straight to where the sun don't shine! Cute, tattooed Persian-American Luna Lovely swallows Mike's monster cock and undergoes a sphincter-stretching session with a messy sperm facial. Bodacious blonde Cali Carter spreads her thick, righteous booty, and Mike thrusts his tongue inside. The busty bimbo wetly slurps his meaty member and takes an oily butt reaming. After tanned Jade Jantzen has performed a slobbery suck job, Mike drenches his fat prick with lube. The skinny slut bounces lewdly on his pole and sucks schlong ass-to-mouth. True redhead Pepper Hart is pale, all natural and absolutely adorable. Mike fucks her pretty face as she drools uncontrollably, and he pounds her tender tush.
close
E-mail this to a friend
Straight Up Anal #4
Email sent. If you wish to send to another person, click here.