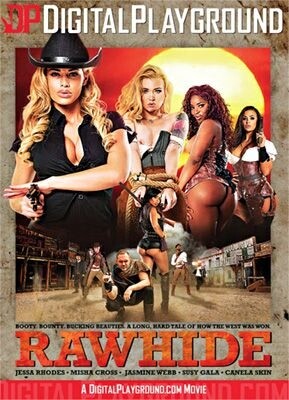 "The Good," "The Bad" and "The Showdown." That's the theme of this Euro-made Western that pays tribute to the badass films of Sergio Leone, only with ample tits and ass engaged in lots of sex.
The heroes are women, starting with Misha Cross who is searching for a "man with a scar across his face." She takes down a whole saloon before fucking Emilio Ardana on a poker table.
Jessa Rhodes — looking spectacular — plays a black-clad bounty hunter who captures the wanted Misha and turns her over to sheriff Luke Hardy, who fucks her hard as a reward. Jessa, Misha and busty buddy Susy Gala set out to find the man with the scar, who turns out to be Nacho Vidal at his nastiest. He and his gang are really bad hombres. He threatens to wipe out the town of Bareback, shooting everything in sight.
Susy pauses to fuck gang member Nick Moreno before the shootout starts. And Nacho has his way with his second in command, Canela Skin, a "queen bitch from hell." In the ensuing smackdown, justice is served and Jessa joins interlopers Jasmine Webb and Juan Lucho for a steamy threeway celebration.
Many blood packets are gleefully exploded along the way, and sets and costumes are worthy of a "Westworld" recreation. The sex is fervently performed but curiously — for Europorn and Nacho Vidal — devoid of anal.
Synopsis:
Cowgirl Jill has enemies on both sides of the law. Fellow law-dodger Eli wants her head; Sherriff Luke wants her neck; and bounty hunter Cody wants ass to sell to whoever will pay. At a gallows stand-off Jill trades Eli's whereabouts for a bandit's reprieve, and now it's up to her and Cody to track down oath-breaker Eli and defend their frontier town. It will take more than a lick and a promise to win the day - but these girls are professional riders who can deep-sit the saddle! Yeehaw, cowgirl!