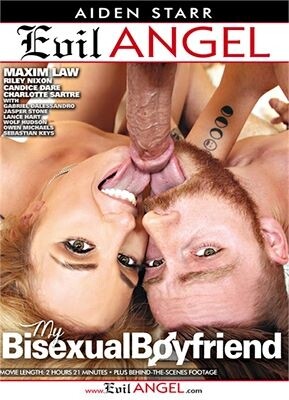 Evil Angel gives you the best of both worlds in "My Bisexual Boyfriend," directed by the queen of fetish, Aiden Starr. So whether you're flicking the bean or strokin' your meat, Starr's latest offering will have you cumming in no time!
To start, Riley Nixon pleasures herself while Jasper Stone (looking like a sexy grungy hipster — love, love the beard!) obliviously reads a book on the couch. The buzzed cut cutie eventually draws his attention, and after some playful banter about his large package getting him into trouble with airport security, Riley pats him down in true TSA fashion. They're interrupted immediately by Riley's boyfriend, Gabriel D'alessandro, who is shocked momentarily before deciding to join in.
"Oh wow, Jasper! I didn't know you were packing like this," Gabriel exclaims, hungrily looking at Jasper's long, erect schlong (Mm juicy!). "It's okay, if I can have some too!" Riley, with a large smile on her face, replies, "Perfect!" Perfect indeed. Together, the couple take turns sucking Jasper's juicy (Riley calls it juicy, too!) cock, and even kiss with Jasper's hard cock in the background. Gabriel fucks his girlfriend passionately cowgirl style, while Jasper fucks his face. They eventually switch off, with Jasper plowing Riley while Gabriel's cock is in his mouth. All in all, probably my fave scene in the whole flick!
Up next, goth gal Charlotte Sartre does some homework (she's majoring in Magic) and complains about her body aching. Careful and doting boyfriend Lance Hart proposes his friend Wolf Hudson, who just got his massage therapist license, help relieve some of her pain. Wolf hits all of Charlotte's sweet spots, including her lower back, which then turns into a sexy sneak peek at her anus. In between massaging her ass, Charlotte and Wolf exchange witty sexual innuendos like, "Let me know if I'm going too hard!" and "I like it hard!"
Eventually, the threesome gets naked to be comfortable and really, really enhance the massage therapy session. Wolf and Charlotte take turns deepthroating Lance, while kissing. Then, the lads take turns plowing Charlotte, eventually getting a DP going, which has Charlotte squealing at the top of her lungs. Wolf is a sexy top, and controls the scene ("Suck that cock dry!" he commands Charlotte at one point), eventually cumming on both Charlotte and Lance's face.
The third scene sees the return of ruggedly handsome Gabriel D'alessandro — this time sharing Candice Dare with Owen Michaels. On the search for a new home, Candice and Owen seek out real estate agent Gabriel. After he unveils the house, he says: "All the furniture .. paintings on the wall … all included. Everything is included!" To which Candice replies, "Everything? How about you?" Gabriel chuckles, and asks if that offer includes the both of them, and Owen shyly (but sweetly) says, "Yeah. Oh yeah."
They get to fucking immediately, with the couple practically ripping Gabriel's clothes off. Candice kisses him deeply while Owen tends to his cock, alternating for a period of time. Candice chokes on his dick, which makes saliva trickle all the way down to his balls. They, then, take turns plowing Candice on the couch, before Owen comes on both their faces at the same time. They eagerly await his cum and kiss it off each other's faces.
Rounding out the title is Maxim Law, Sebastian Keys and my new favorite boy (again!) Jasper Stone. The scene starts with Maxim and Sebastian discussing Jasper, who in true hipster fashion, is crashing on their couch and isn't paying rent. (Damn millennials …) They propose an offer to Jasper, saying he can stay if they fuck — which, duh, he's totally down! "That easy?" Sebastian says. "I am that easy!" Jasper enthusiastically replies.
Sebastian kisses Jasper while Maxim gobbles down on his dick. They switch it up, with Seb sucking dick while Jasper fingers a squirming Maxim. Though the first scene of this fiery title was my fave, this one brings a hot degree of action when Maxim rides Jasper's dick, bouncing up and down, and Sebastian sucks on it in between strokes. Maxim keeps her nude thights on during the sex, which adds another level of hotness. Though Jasper is my new fave, Sebastian is deff a standout, looking devilishly handsome with his slicked back reddish hair.
Aiden Starr seamlessly mixes light romance with hardcore sex in "My Bisexual Boyfriend," truly delivering a title that is bound to attract everyone — regardless of sexual orientation. A-plus for one of Evil Angel's most multi-faceted directors, and kudos for tapping a seemingly untouched market with a fuckload of sexy potential. I can't wait to get my own bisexual boyfriend after this!
Synopsis:
Distaff director and sexual gourmet Aiden Starr brings wild kinks to the porn mainstream: The intimate, nastily gender-bent threesomes of her My Bisexual Boyfriend reveal how erotic possibilities can expand when a girl's significant other swings both ways! Gabriel Dalessandro is shocked to discover girlfriend Riley Nixon blowing stud Jasper Stone. But when Gabriel sees what Jasper's packing, the bisexual horn dog can't resist joining in. On the advice of beau Lance Hart, adorable college girl Charlotte Sartre gets a massage from Wolf Hudson. The ensuing three-way includes intense double penetration and mutual cocksucking. Real estate broker Gabriel shows a luxury home to Candice Dare and Owen Michaels. Candice rides both of their dicks and shares a passionate cum kiss with each of her handsome bi studs! Blonde, all-natural Maxim Law and boyfriend Sebastian Keys have one rule for male houseguests: a mandatory threesome! Jasper happy complies; their menage-a-trois fuckfest climaxes in two messy cum explosions and a three-way kiss.