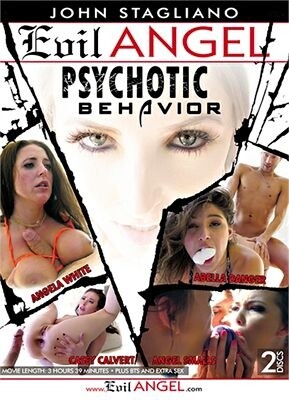 Four stories — over the course of two discs — involving crazed activity from various characters, leading to awesome anal sex, care of the seductress likes of Abella Danger, Angela White, Casey Calvert and Angel Smalls. How can you possibly go wrong here?
We start with Xander Corvus playing an "artist" fed up with his girlfriend, Abella Danger, and her narcissistic, slutty cam shows which she shoots in their kitchen, leading to a sizzling hate/grudge ass-fuck, leaving it somewhat ambiguous as to which participant is more nutso, Xander or Abella. Actually, Abella has never looked better, in all of her voluptuousness, with Corvus going straight to the A when he violates her panting self in the pantry — and for the dirty little cunt's live cam.
Lots of marshmallows, bananas, whipped cream and other forms of food are savagely crammed/stuffed/shot into Abella's orifices besides the cockmeat, which fully invades her mouth, cunt and poop chute. As we all know, she's a fantastic deepthroater, delivering boatloads of spit. "I hate you, but I love your cock!" she screams at Corvus, as she just can't say no to a volcanic cornholing and throat-gaggin'. Doggie anal is done for a good long time, with Corvus also making Danger nearly suffocate on a purple dildo stuck to their window. He also frequently simulates a DP with his cock, either in her anus or vadge, and a vibe up the other free/unoccupied portal. And, of course, there are tons of ATMs in this over-the-top rage-induced/-propelled food fuck, with Corvus ultimately blowin' his load after a furious face-fuck. Way ta go, Xander!
Next, Aussie Angela White plays a bullying entrepreneur/wife who wants her hubby, the bizarrely tattooed/cadaverous-looking Owen Grey, to fuck rather than "make love" to her, with her extreme bitchiness eventually making the poor slob go over the edge and, literally, slam the shit outta her, making it nice for him, Angela, and (better still!) us. After White engages in some face-sitting, she sucks Grey's gristle to the bone before he begins to really spank her glorious ass cheeks to a flaming red, finger her anus, cock-chokes her upside-down face, bangs her pussy, slaps her fantastically floppy tits around; after which he cornholes her fine butthole doggie style, has her lick her own fresh shit offa his soiled sword and also eat his farts, before he fucks her bouncy-bouncy boobies, makes her bountiful butt cheeks wobble during reverse-cowgirl anal (shot from behind so it appears like doggie), and, all in all, treats her like the piece of anal-sex furniture that she is (in his henpecked estimation). Job well dung, Owen!
A true highlight has the gorgeous, scrumptious Casey Calvert driving herself bonkers thinking that her hubby, played by Markus Dupree, is cheating on her, until he shuts her up good and proper by fucking her brains — and mouth, and cunt, and butthole — out! The two freaks use a white-chocolate-flavored cake to get things a little kinky during their freaky tryst, with some choice moments including Dupree having Casey's anus ride his cock mish style while he's holding her up off the ground, the dude seriously face-fucking her before he ass-gapes her big-time during doggie while also yanking her hair, jackhammering her anus and gaping it during mish while also feeding her regular ATMs, reaming (one of my faves) her twat and anus back and forth during cowgirl so that her greasy butt cakes are really jiggling before, eventually, blowing his Moscow murk all over her sweet little face. Good goin', Markus baby!
And on disc two (other than the special features, which include BTS and extra sex), we have the ever-nasty Angel Smalls getting porked in the cunt and kah-kah big league a la Small Hands. Looking for a job working with director John Stagliano, Angel shows up at an eerie, seemingly desolate mansion, but only meets (then meats!) with the creepy Small Hands, who states that he works with Stagliano and that Angel prove to him (Small Hands) that's she's a bona fide slut, by showing him that whorish actions must speak far louder than insincere words in the jizz biz. A
Angel, like the other three ladies in "Psychotic Behavior," is up for anything, including near-puke-erupting cock-gagging, savage sphincter slamming (with a favorite position being cowgirl, as the little tramp bounces up and down with her delectable lil' butthole on throbbing penis), dirty-as(s)-shit ATMs, with Small Hands at times filthily switching back and forth between Angel's sopping cunt and her itchin' stink palace during doggie, while you also don't wanna miss our boy's merciless upside-down face-fucking of Angel, before she courageously sucks him to cum-splosion. One helluva job, Small Hands.
Director Stagliano has ass-embled one magnificent foursome of anal tramps in these four off-the-wall stories, making the movie all the more effective with his classic in-your-face videography and some atmospherically spooky music. Even our heroic director himself — warmly referred to as "Buttman" — delivers a fun cameo. Ab-so-fucking-lutely worth a look-see.
Synopsis:
Damaged beauties and sick fuckers come together in the dramatically deviant vignettes of John Stagliano's Psychotic Behavior. Vivid visual storytelling presents top starlets in twisted scenarios of anal insanity. Abella Danger and Xander Corvus make a dead sexy couple despite their mutual hatred. Her porn camming session becomes a schizo food-fuck spiced with slapping, spitting, fuck-yous and I-hate-yous. Abella deep-throats dick through a whipped cream avalanche; her hungry ass consumes cock and foodstuffs like bananas and cucumbers! When voluptuous, bitchy Angela White orders skinny Owen Gray to do the laundry, he spends the day sniffing soiled lingerie and masturbating. But the naturally buxom, domineering broad succumbs to wailing delirium and face-sitting breath control in a power-exchange spectacle. Convinced that Markus Dupree is screwing every whore in town, Casey Calvert spews insecure viciousness. Markus makes her gash squirt girl juice and her bunghole gape widely. Creepy, radically tattooed Small Hands sneaks petite Angel Smalls into Buttman's studio for kinky toy play and an orgasmic anal carry-fuck. He departs as we learn why Buttman's been tied up...