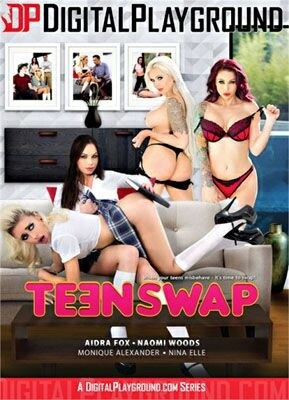 I'm not sure I understand the whole concept of "teen swapping" in this Digital Playground series (troubled parents apparently swap their troublesome teen daughters and sons between themselves to promote some form of discipline), but I do understand the "hole" concept, which includes the downhome drillin' of younger babes (Aidra and Naomi) and older broads (Monique and Nina), with fiery results.
The ever-cute Aidra Fox first gets a deep dick-dunkin' from Keiran Lee, who's not her stepfather, but teaches her that he doesn't like her being a slut by treating her ... well … like a slut! After a great start with a deep BJ, Aidra lets Lee fuck her equally deep via doggy. He even whips her ass a bit with a handy belt. As Fox is a great blowjob artiste, more sucking follows. Aidra really works it cowgirl, her fine butt cheeks good and red by now, care of Keiran's butt smacks. Reverse-cowgirl offers a spectacular view of Aidra's killer body. For a few seconds during missionary, Lee actually pillow-smothers Fox, before letting her up for air, and switching to spoon, which includes some throat choking, followed by cock-choking, a wee bit of fart eating, a bit more spooning and sucking, before some mish pummeling and, finally, a cum filling which fully covers her eyeballs. Way to go, Keiran!
Naomi Woods next gets it on next with the returning Mr. Lee. After a girl "fight" between Aidra and Naomi, Keiran shows up, sends Aidra to her room and has his way with the blonde and bawdy Woods. She's fine at dick-gagging, after which Lee slowly, then furiously missionizes her, which fluidly transforms to spoon, followed by cowgirl, which duly highlights Naomi's choice ass cheeks. Reverse-cowgirl lets you see what a marvelous spinner's body Woods possesses, while we're finally treated to a va-va-voom view of her pooper through some more spoon action. Sadly, there's no doggie, but Lee does provide a good creaming of Woods' mouth.
Next, veteran vadge Monique Alexander sucks and fucks lucky fuck Robby Echo. Whorish Monique still looks fantastic after all these years and she's still a terrific cunt in bed. She puts a lotta spit on cock when gagging on it (highly laudable), and her augmented boobs aren't too overdone, so it's a pleasure viewing 'em (particularly during spoon), while her face is still pretty, and her ass is amazing. Doggie is fantastic, as always, with Monique (and we're treated with a triple helping of doggie, by the way), though cowgirl is just as horny, with Alexander's big butt muffins billowing all over the place, with lucky bastard Bobby eventually coating her mug with ball batter.
Finally, Nina Elle catches visiting teen Alex Davis beating off in the shower, so she joins the horny little prick and gets him off. Love those big fake boobs on Nina. Love her throat-gagging on cock, too. Standing doggie is fine; I just wish our pair o' pervs moved to a more comfortable bed, where positions are more revealing. Naturally, Davis titty-fucks Elle's fun bags. The cascading shower water is, actually, a good touch, making it look at times as if Nina is squirting left and right. Hell, she probably is! We're also treated to four doggie slammings, and, of course, big-boobed Ms. Elle presses those luscious wet jugs right against one of the four glass sides of the shower while she's getting properly doggie; with Elle eventually taking a pop on the chin like the true whorish champ she is. Love ya, Neen!
Younger? Older? Doesn't matter. Waifs and MILFs alike totally rock in this rousing teen romp, which is good for couples and horndogs alike.
Synopsis:
When your teens misbehave - it's time to swap! Two families exchange their teens to teach them a lesson. Let the disciplining begin!