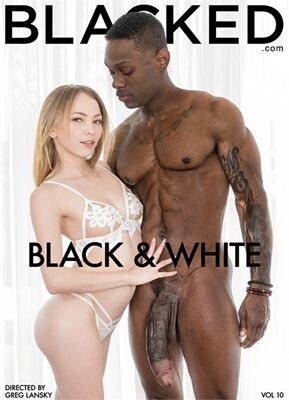 There's not a bad harlot amongst the quartet o' sluts featured in this XXX pornmanteau of four anecdotes, with the most volcanic scene being the opener (yeah, opening up things in more ways than one) with little Angel Smalls and the massive (move aside, Mandingo!) Julio Gomez.
Angel Smalls is oh so sexy, only 23, and (of more immediate relevance) just 5'; and yet she takes the footlong veiny vine dangling between Julio's legs like an absolute champ, with the fucker really going deep in all positions. Smalls basically wants a crack at her girlfriend's well-hung beau named "Brake," who's actually Julio Gomez. Smalls does her best to deepthroat the bastard, not even getting halfway, but it's a fully nasty effort, with plenty of foul noises and saliva. Angel totally rocks here (and in everything she's in!), starting with hard-hitting/deep-sinking missionary, followed by a truly rousing session of cowgirl as she howls while grinding on black behemoth, and then a devastating round of doggie (a true scene highlight), with Gomez ultimately blasting sperm halfway in and halfway out of her tight (not anymore probably) twat. Angel is one of those gals who's just up for anything! One of the year's very best scenes!
A new favorite of mine is next up, in the form of 18-year-old brunette Charity Crawford, here taking on Jason Brown's big black boner with flying colors. Crawford plays an up-and-cuming actress practicing a love scene with Brown at his pad, with the two eventually getting down and dirty. It's great watching Crawford try to shuck down Brown's big one. It's even better, though, watching her take it doggie, with the cute tramp sincerely moaning at points, and Jason getting his grabby hands out of the way for about half of the position, so that we can truly absorb Crawford's fine ass cakes fly. I also dig hearing her charming North Carolina accent subtly reveal itself during a few horny moments. She's a keeper!
The exotic-looking Moka Mora and big-assed veteran A.J. Applegate don't disappoint, either. Mora is "discovered" in a club by the black secretary, Kira Noir, of the mysterious Mr. M. (who's, in fact, the one and only Mandingo), and invites Mora to M's home, so that he can properly pork her silly; for pay, of course. Mora has a perfect body, including lovely face, awesome tits and juicy ass. Aside from the 'rousing sequence wherein Noir "warms up" Mora by eating Moka's sweet pussy, doggie and reverse-cowgirl with Mandingo are the most nuclear moments in this episode.
And, of course, you can't really go wrong with A.J. Applegate, even with just her filthy, deepthroating blowjobs, here playing a fashion designer who goes to whorish lengths with a distributor, the returning Jason Brown, to get her line of bikinis on the market. The problem, for me, is that Brown doesn't really let Applegate's succulent body live up to its luscious potential, with reference to her usual meaty ass cheeks flying every which way during doggie and cowgirl. Brown simply keeps way too tight of a (literal!) hold on those bountiful butt muffins. Let A.J.'s delectably fleshy body breathe, fer crissakes! But, I digress.
All in all, though, "Black & White 10" is totally worth checking out, particularly for the scenes featuring cute Charity Crawford and, most definitely, the amazing Angel Smalls, whose cunt-splitting scene with Julio Gomez is absolutely one of the year's horniest/best.
Synopsis:
BLACKED.com and Greg Lansky, bring you Black & White Vol. 10! No other series has a better collection of young and natural talents in hot, unforgettable IR performances! Covergirl, Angel Smalls, stars as a jealous roommate looking to hook up with her BIGGEST celebrity crush. Also featuring debut IR performances of the stunning, Charity Crawford, and rising starlet, Moka Mora; rounded out with the return of fan-favorite, AJ Applegate. All wrapped in BLACKED.com's unparalleled production and storytelling standards, this soon to be classic collection is NOT to be missed!