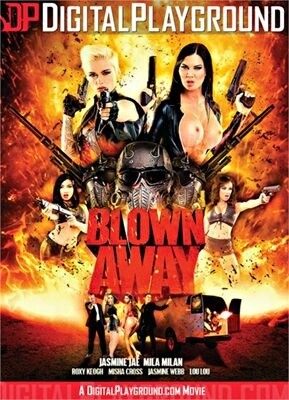 When jewel thief Jasmine Jae winds up in the slammer after being betrayed by partner Danny D., there is hell to pay — and a glut of gun-driven mayhem rare for an adult movie. Jas busts out of prison with a gang of lethal females and sets off to track down Danny, along with the $50 million diamond they stole together.
Jasmine, Lou Lou, Rina Ellis and punky blonde Mila Milan are one hell of a killing squad, decked out in black leather, gas masks and assault weapons. They invade Danny's safe house after killing his guards. Jasmine tries to make a deal with second in command Freddie Fox. They have rough sex, her huge enhanced boobs jiggling in reverse cowgirl. But Danny breaks in, kills Freddie and makes off with the loot.
From then on it's Jasmine and Mila chasing and killing the bad guys and indulging anal sex. Mila scores — and screams — in her threeway with henchmen Pascal White and Peter O'Toole, climaxing with a double penetration in two positions. The always fabulous Misha Cross shows up for heavy-duty anal with thug Luke Hardy. The climax is another go-for-broke threeway, with Jasmine, Danny and majestic Jasmine Webb, who is the real queen of crime. It does not end well for Danny.
Lots of action, hot women, high-energy sex and fast pacing make this one a winner.
Synopsis:
Thieving ain't easy. Jasmine learns that the hard way when Luke, her lover and partner in crime, betrays her to the cops to land her behind bars. With the help of three badass inmates, Jasmine busts out of prison and plots to steal a rare jewel worth millions. Watch the nonstop action unfold as these sexy criminals go head-to-head with Luke's armed gang as they hunt down the priceless gem . . . and each other.