Star Wars: The Force Awakens, A XXX Parody
Men.com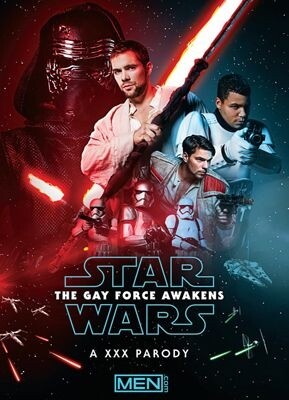 Men.com's second "Star Wars" erotic parody from director Alter Sin features the terrific Wesley Woods and Aspen, among a strong cast, and boasts a better costume and special effects budget as well as smart use of computer graphics.
"Star Wars: The Force Awakens" characters Poe, Finn, Kylo Ren and others, including a male Rey, are represented. Nobody watches these parodies for a precise reenactment of a film with a 100-million-plus budget, but nevertheless Men.com's use of costumes and sets, including a frenetically edited lightsaber battle, are better than one might expect and nicely set the scene. Gay porn fans who love sci-fi should not be disappointed.
Inveterate scene-stealer Wesley Woods (as Kylo Ren) is again a standout. His romp with Griffin Barrows (as Rey) is a sizzler and brings out the best in Barrows, who appears to be inspired by Woods' high-energy, vocal sexplay. Their traded blowjobs are especially good and Woods rolls his eyes back and groans as if he's never had it so good.
Woods appears later with preppy-handsome, singly named Aspen (as Poe). Once again, he is fully present and sweating buckets as he ruts with Aspen, who appears amused and highly turned-on by his partner's intense commitment.
A pair of sexual heavyweights — Jay Roberts and Colby Keller — double-team Kaden Alexander (as Finn) for a terrific threesome that also includes Keller riding a very appreciative Alexander as well as taking cock from Roberts, a stoic Euro-stud with pistonlike fucking abilities.
Barrows, Aspen and Alexander also anchor a second threesome in which all three gents appear equally matched. The energy level is playful. All three acquit themselves well and Barrows is the standout performer.
This would make for a strong, logical double-feature with Men.com's "Star Wars: A XXX Parody" featuring Luke Adams, Jessy Ares and Paddy O'Brian.
Synopsis:
In a Gaylaxy far far away. Poe is captured and stripped bare by Kylo Ren. Poe may not have what Kylo is looking for, but he does have a hard cock and a tight ass. A ferocious fuck breaks out between these two enemies, each taking turns invading the other's tight ass.