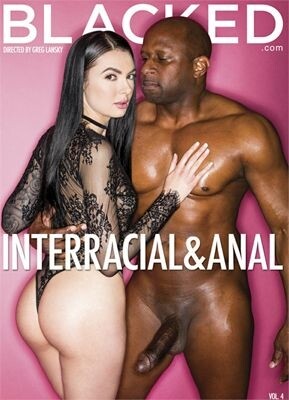 You're in for one blistering bunch o' babe-butt-bangin' with this latest fanny-tastic volume of "Interracial & Anal" from director Greg Lansky and the good pervs at Blacked.com.
In the first of many scintillating scenarios, the truly gorgeous Marley Brinx (22 and from Toronto, Canada) is an aspiring fashion model (looks like one, too!) who, to move up in the fashion world, trades her primo body (including her choice anus!) to a VP of marketing (played by Prince Yahshua), with some scorching sphincter screwing ensuing. Brinx looks great sucking on that big black cudgel, especially when Prince seriously face-fucks her. After mish vadge, Yahshua hits her shit, with some cool overhead shots of the action, as well as always-appreciated close-ups, including gorgeous gapers.
After catching his foxy wife masturbating to big-black-boner porn, Anya Olsen's on-screen hubby very generously allows her fulfill her ebony-and-ivory fantasy by having some lucky fella from her gym, John Johnson, bang her brains 'n' booty out — that is, as long as he gets to secretly listen in by phone. After her amazing throat-fucking, Anya (22, from New York State, and of German-Irish descent) offers a powerful doggie-vadge slammin', a high-energy cowgirl ride, followed (finally!) by missionary and reverse-cowgirl anal with turd-miner JJ really diggin' deep into Anya's crap vap for chocolate kisses.
Totally foxy Jillian Janson (22, from Minneapolis, and of Irish / Norwegian / Scottish / Swedish / Welsh roots) lets her horny BBC-wielding boss, Jose Lescaf, do the dirty deed with her in just one of this movie's many highlights. Then again, you never can go wrong with Jillian, eh? She's both pretty and perverted — a winning combo! Janson's also an amazing little cocksuckette, offering lotsa passionate kissing when she isn't choking on meatloaf. Heated mish vadge is followed by black-salami-sinkin' anal, with Jill's flattened bod providing maximum shithole entry, while providing a bit o' squirtin', as well. Spoon anal is far too eclipsed, but doggie a la stink-cave makes up for any such shortcumings.
Luscious Roxy Raye (28, from Florida), just like the earlier character of fashion-tramp Marley Brinx, is a cutthroat (and deepthroat we soon find out!) real estate agent who lets Flash Brown anally fuck her if he signs off — that day! — on a house, with marvelously nasty results. Roxy definitely offers the very best (in my opinion) cocksucking in the hole flick, really trying her best to inhale Brown's thick black behemoth until it's way past her tonsils. In terms of fucking, it's spoon anal a la Roxy that's most appreciated and, unlike Jill's scene, you get far more dung diggin' here. Rox also bounces her anus like a champ during reverse-cowgirl, with some choice grinding moments, after which we're rewarded with the movie's most smokin' — and honest! (as in no cheating) — ATM; while Roxy's cowgirl rear reaming, including plenty o' squatting, offers a terrific view of her juicy pooper.
Yep, this is definitely one truly nuclear installment of "Interracial & Anal," with not a bad — nor bad-looking! — anally-minded tart in the house. Female ass-whores, I fuckin' love ya!
Synopsis:
BLACKED.com is proud to present the next installment of its most popular series, Interracial & Anal. Directed by multiple award winner Greg Lansky, this collection continues the series' standard of showcasing the finest interracial anal scenes ever shot. Cover girl, Marley Brinx brightens up the screen as an aspiring model willing to do whatever it takes to get ahead. Also featuring Anya Olsen, Jillian Janson, and Roxy Raye in world class anal performances. All wrapped up in the unrivaled production value and captivating storylines BLACKED.com is known for, Interracial & Anal 4 will leave you beyond satisfied.