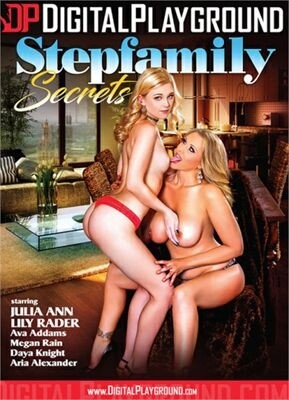 All of the five stories in this fun, frolicsome 'n' frothy Digital Playground porn portmanteau are absolute nut-busters, with high points, indeed, going to MILFs X-traordinaire Ava Addams and Julia Ann, as well as fresh-twat knockouts Megan Rain, Aria Alexander and Lily Rader.
The movie starts off with a bang, as luscious-as-ever, 37-year-old, French-Italian, buxom (try 32DDD-24-34!) Ava Addams is tested by her stepson, played by Lucas Frost, to see just how slutty the bitch really is. And the (c)litmus test begins in a relatively large shower with Ava giving Lucas a slow, luxurious blowjob, cumplete with lotsa saliva. The guy actually pops his cork during upcuming doggie, much to Ava's chagrin. But, amazingly, he keeps it up, doing her reverse cowgirl, cowgirl (Ava's magnificent squatting shows off her juicy, gelatinous butt cakes), spoon, and doggie; followed by some greasy titty fucking, a fast 'n' furious BJ, after which Frosty blasts off ball batter (for an impressive second time!) on Ava's ample chest. And it's all followed by a funny cunt-clusion, which I won't blow for you.
Next, despite (or perhaps to spite!) her ugly mother's witch-like behavior, 21-year-old Palm Springs native Megan Rain (of tasty Italian-Peruvian descent!) gets down and dirty with stepfather Keiran Lee. Very early on in stepdaughter/daddy's loin joining, we're treated to a gnarly upside-down blowjob, with oodles of saliva cascading down Megan's cheeks. She even eats Lee's British fudge factory. Yechhh and double-yechhhh! Cowgirl is definitely my favorite position here, seeing as how rockin' Rain really works that fine little ass of hers — for a good long time, too! And I just love how Rain's tight little body gradually gets wetter and wetter with sweat during the course of the affair. Definitely a movie high point.
Another torrid tale involves exotic-looking, Mexican-Irish, Houston native Aria Alexander, 22, seducing her reluctant, back-ailing stepdad, comically played by Tommy Gunn. While her stupid mother is calling the doctor to get advice about hubby's sore back, Aria first gives daddy relief by giving him a loving blowjob which is deep at times, balls and all. Cowgirl, by the way, gives us a great view of spinner Alexander's flawless bod, while reverse cowgirl and doggie deliver choice perspectives of her tight yet jiggly butt that's simply outta this world! And I simply adore her passionate facial expressions and intense eye contact during missionary. Love this wondrous whore!
The Daya Knight episode is simple — as white stepbro bangs black stepsis — with our 20-year-old apple bottomed mama's big ass cheeks flowin' all over the place (boing!) during cowgirl and doggie, as the ever-permed Michael Vegas plays hide-the-salami with the perky pony-tailed trollop; but it's the final episode featuring horny 47-year-old MILF (and, for the raunch record, L.A. native) Julia Ann teamed with 20-year-old blonde pixie Lily Rader (this 10-star beauty harking from Ohio) in a torrid threesome (yes, lucky prick Lucas Frost returns), really rounding things off well in this torrid XXX anthology. Julia Ann plays Lily's new stepmother, whom the former visits with her boyfriend, Lucas, for an unforgettable Thanksgiving feast.
And when Frost barges in on an impromptu kitchen-counter lesbo tryst between Julia and Lily (the latter being a fantastic cunt-sucker!), he not only (eventually) receives an awesome double-suck, but seriously doggies each of 'em, with the ladies' butts (Julia Ann's joyously big posterior and Lily's marvelously tight buns) being a terrific contrast against one other. And, after numerous blistering boink positions, it all magnificently ends with Julia sucking Frost to finish; our MILF of the day charitably sharing his steaming spunk with foxy Rader. This segment also has a humorous "ending," which I won't ruin for you.
"Stepfamily Secrets" is a thoroughly entertaining, passion-filled, frequently funny quintet o' tales (which equates to a fab five rather than a mere four sex scenes, and six [count 'em, six!] female tails!), perfect for pervs and couples alike. And don't miss the sizzling photo gallery in the special features section; shit, those X-cellent pix alone are bound to get you off!
Synopsis:
Every stepfamily has secrets. Some are sexier than others. Take a peek at what happens behind closed doors.