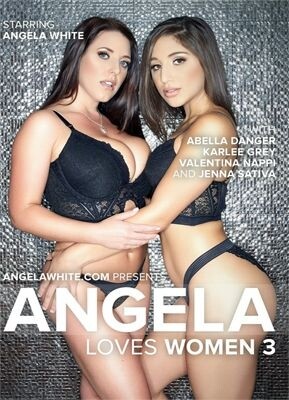 In the latest installment of "Angela Loves Women," 2016 XBIZ Foreign Female Performer of the Year Angela White brings a myriad of decorated XBIZ Award-winning starlets to the screen for some sexy Sapphic action. Angela proves, yet again, just how much she loves women — and these women show just how much they love her!
First up, girl-next-door Karlee Grey devours Angela's plush lips in a heated kiss, which turns into immediate titty-worshipping. Karlee slobbers overs Angela's perky breasts, and uses her other hand to massage her clit. When they flip flop, Angela calls first dibs on eating Karlee out. "You taste so good," Angela moans, tongue lapping at Karlee, who sports a neatly trimmed bush. After some serious scissoring, face riding, A2M and even titty to clit (as in, Angela rubs her perfectly shaped titties against Karlee's clit, which makes her moan loudly), both ladies cum, legs quivering.
The second scene invites 2017 Foreign Female Performer of the Year Valentina Nappi to ravish her predecessor. They engage in a battle of tongues, soft and sensual. Angela drops to her knees and peppers Valentina's stomach with butterfly kisses. Despite the scene starting off sugary sweet, it takes a naughty turn with Nappi slapping Angela's Australian ass before sliding her tongue right inside her hole. Nappi furiously fingers her and Angela's eyes roll to the back of her head. "Yes! Yes! Goddammit, you're so sexy," Angela manages to moan between laughs, because Valentina blows a raspberry against her pussy. Then, after she's cum all over Valentina's mouth, Angela pushes the petite Italian against the couch, spreads her legs and enthusiastically slaps her thighs. "You're fucking perfect. Every inch of you is perfect. Every inch of you is a fucking woman. Look at you!" Damn, Angela really loves women.
Up next, Angela gets her hands on 2017 XBIZ Girl/Girl Performer of the Year Jenna Sativa in the shower. "Oh my god, your butt is fucking perfect!" Angela compliments, squeezing the Penthouse Pet of the Year's posterior. Jenna grins and kisses Angela in lieu of a reply. She fingers herself while Angela bites at her itty bitty, cute titties. "Let me grind it on that tongue," Angela smiles when she whimpers, rubbing her ass all over Jenna's face. Her titties bounce from the exertion. With water cascading over their already slick bodies, Angela finger fucks Jenna into submission; her head falls against Angela's shoulder, and she bites her own finger to stop from being too loud.
The last scene is yet another encounter between Angela and an XBIZ Award-winning performer. 2016 XBIZ Best New Starlet Abella Danger smiles the entire time she kisses Angela. "So beautiful," Angela says of Danger's delic-ass-y, seductively rubbing her booty. "God, I love these tits so much," Danger comments, burying her face in between Angela's puffy chest pillows. "You know what feels so good!" Abella mewls, back against the couch. Angela presses a kiss to the heel of Abella's foot and works her way up until she can put her entire mouth over that incredibly wet cunt. Abella can't get enough of Angela, and the feeling is mutual. They spend the entirety of their fuck session delivering cutesy compliments and words of affection, all while riding each other's fingers and faces.
Angela White is a goddess, and like Aphrodite she tends to the needs of women like a damn savior, bringing them to their knees in worship. "Angela Loves Women 3" is nothing short of a gift from the heavens above, placed into the shaking hands of mortals as a taste of heaven.
Synopsis:
Angela Loves ..., AGW Entertainment brings you the third instalment of Angela Loves Women. Angela Loves Women 3 features an all-natural cast of women having authentic and passionate lesbian sex. Angela White directs and stars in every scene with four of the top girl-on-girl performers in porn: Karlee Grey, Valentina Nappi, Jenna Sativa, and Abella Danger. Each scene in this lesbian showcase is cinematically shot with an emphasis on capturing genuine chemistry and lust. This is sex as it should be: raw, passionate, intimate and real.