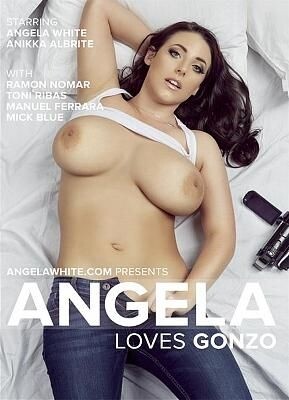 "Angela Loves Gonzo" is a two-disc gonzo extravaganza that smolders from start to finish, as auteur Angela White takes viewers on a ride from just about every conceivable camera angle.
The movie opens up with Ramon Nomar in the driver's seat of a car, cruising down the street with his cock out so White can give him a thorough handjob. The action is captured intimately via a playful POV that comes across like an iPhone selfie session. White takes a brief moment for public nudity mischief, flashing her famously floppy au naturel tits at a lucky pedestrian. Once the duo parks and heads indoors, Nomar slams semi-clothed White doggie style, her tits pressed against the bathroom counter. She eye-fucks the camera throughout, smiling deviously. The scene's blend of static shots from a distant viewpoint and handheld POV keeps the sex exciting and transitions seamlessly enough to ensure a smoothly flowing sexual rhythm. At the end, viewers get a voyeuristic glimpse through steamy glass panes of Nomar and White fucking in the shower, as if the camera was accidentally left behind.
In the second scene, which is certainly a highlight of the film, Anikka Albrite and White simply cannot get enough of each other in the spa. Soon, they peel off their shimmery bikinis to engage in boob fondling and oral in the bedroom, damp strands of blonde and brunette hair whipping about wildly. White licks and fingers Albrite until her face is ruddy from pleasure, before Mick Blue shows up to get his member serviced from both of them POV-style. The ladies make fierce eye contact and alternate between licking his shaft and swallowing his balls, leaning forward to smash their boobs beautifully against his legs. Occasionally, their natural girl-on-girl chemistry turns into a Sapphic break from the threesome, as Blue's steady POV hand captures their raw scissoring. Things get extra fiery during a tag team missionary segment, when Albrite and White take turns getting their pussies slammed by Blue. Then, Albrite assumes control of the cam to film Blue and White one-on-one, before White returns the favor for hubby-on-wife lust. The scene ends with the starlets sharing Blue's cum spittle and then finishing each other off orally.
Toni Ribas steps up to the plate in scene three, which offers a nice change of tempo from the rest of the film thanks to rough choking and slapping that leaves red marks on all four of White's cheeks. Ribas wastes little time stripping White down for a POV blowjob. His toes get sucked plenty and even his feet are titty-fucked. He fingers her butthole and sets the camera down at one point for a nice amateur floor shot, pulling her hair and jiggling her ass with pussy pounding from behind. There is one particularly intense blowjob where Ribas pincers her face between his thighs.
Scene four has a lot more assplay, as Manuel Ferrara and White ride a gonzo carousel of static shots and POV angles for some hardcore ass fucking in a hotel room. Her boobs bounce freely every which way, especially during a solo masturbation frenzy — Ferrara sits back to film White fingering her own butthole and pussy simultaneously. He then repeatedly plunges his cock into her ass for the second half of the scene, ending in a climactic bathroom finale. Ferrara forces White's head under the faucet's running water, and then dunks her into the toilet bowl for a swirly. As he does her in the ass, he literally closes the toilet lid on her head and flushes. She comes back up, mascara running in rivulets down her cheeks, to give him a blowjob before fingering herself into a coma.
Though each of the film's four scenes are lengthy, the varied pace and angles — not to mention the unbridled passion — will keep viewers firmly glued to their screens. White has truly delivered a knockout gonzo title.
Synopsis:
Angela Loves Gonzo does away with camera crews, professional lighting, and cliched porno scenarios to showcase Angela White in candid hotel sex romps. This movie gives the viewer a POV and voyeur's eye view of Angela as a woman who enjoys exploring the breadth of sexual expression; from the most tender and romantic to the rough and raw. Angela and Ramon Nomar's chemistry is so intense they barely get their clothes off before the fucking begins. They move from the car to the bathroom to the bed in an energetic and fervent encounter that leaves Angela with smeared makeup and a mouth full of cum. In the next liaison, Angela and Anikka Albrite devour each other in passionate lesbian sex before sharing Mick Blue's big hard cock. In this incredibly sensual and heartfelt threesome, the camera becomes part of the action as the trio take turns shooting while they share in each other's pleasure. Toni Ribas ups the intensity by making Angela squirt multiple times while combining consensual rough play, choking and slapping with slow passionate love-making. The finale features Angela with Manuel Ferrara in an anal sex session which is as extreme as it is intimate. Their intense connection enables Manuel to push Angela's sexual limits and explore her dirtier side. Angela Loves Gonzo offers fans a window into Angela's private sexual life as it documents her diverse desires and immense sexual appetite. The bonus scene demonstrates Angela's love for indulging in all sensory pleasures; viewers get to witness ice cream slowly melting down Angela's delicious curves in a hedonistic masturbation scene. This is a glamorous ending to a multi-tempo movie that offers up something for fans of varying tastes.