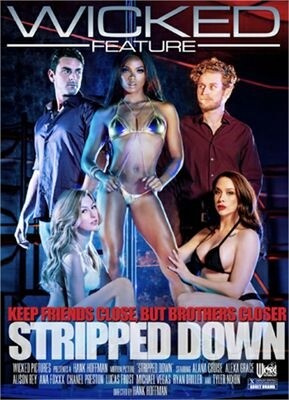 A thrillingly dramatic Wicked feature about the machinations of a strip club … with some heated BJs n' boinking to boot!
Alison Rey starts thing off as a wannabe stripper who, after her aborted audition for one of the leading strip clubs in L.A., gets, quite happily, boned by one of its employees, namely Lucas Frost. I love Alison's little all-natural bod, and both she and Frost bang smashingly well, given the rough-and-tumble screwing on top of a bar counter and in a bar chair — in which they get sweaty while the club is technically closed, but open for auditions (and cunt-slamming, to boot!). Blowjob-wise, Alison offers a nice combo of traditional/slow sucking and yer more 21st century-style deep choking. And while missionary and doggie styles are horny, I especially liked cowgirl, as Alison has a terrific manner of bouncing on boner; while her amazing ass is brilliantly highlighted in this same position.
Next, Chanel Preston and Alexa Grace, both always a pleasure to view, get it on in a more comfortable setting — in a real home — with both ladies sucking twat and face as passionately as ever. I especially dig seeing Alexa licking Chanel's big ass (and little anus) when Preston's round and profound rump is bent over.
Alexa and Ryan Driller are the next pair whose groins become entangled, pumping one another in his office at the strip club. The two go straight to fucking, sans foreplay, with doggie being the best position here, as Ryan crazily slams it to her prime meat muffins. Actually, I didn't realize that Alexa had such long (I mean really long!) sexy legs.
We next have Alana Cruise as a cutthroat property owner (of the club itself, more to the point) who gets down and dirty with one of her boy toys, in this case Tyler Nixon, at her mansion. I love the natural tits on this chick, who also has an older-but-damn-tight body. And while she adores getting her pussy eaten, Alana returns the favor by offering Nixon her famished mouth for a horny face-fucking. Cowgirl is a spirited position with Cruise, but doggie rules, seeing as she knows how to grind into Nixon; while the latter is good at slammin' that fine fanny, hard and deep. Oh, and the harlot likes to have her hair pulled, which is only another added turn-on here.
Finally, Michael Vegas gets it on with black stripper Ana Foxxx in a makeshift jail, used for kink purposes, with Foxxx delivering one of the very best suck-offs in the entire movie, along with a rowdy boner-jumping. I love the saliva on her suckoff, which definitely spices things up, as does her fine ass-riding of Vegas-vein during cowgirl. Ana has an outrageously awesome spinner's figure with a totally juicy ass. And while Foxxx's tasty bod is put to good use here, I was definitely disappointed that doggie was criminally missing.
All in all, "Stripped Down" is a solid feature, with five potent sex scenes filled with fiery sex.
Synopsis:
Fate has given brothers Nate & Brian the upper hand in the past. Their strip club had a sizzling reputation for being the sexiest spot in the city and the cash was rolling in. New girls flocked in every day for a chance to grace the lighted stage and VIP rooms. Life was one big lap dance. But now three years later, Nate's wife Tammy (Chanel Preston) has decided to make some trouble and the club's star dancer Jezebel (Anna Foxxx) is caught right in the middle. The owner of the building, Veronica (Alana Cruise), is circling, asking questions, and she has her eye on Brian. The business that was so full of happy endings is getting gritty. Where's the rent? Where's the new talent to keep the customers happy? And who the hell stole all the receipts out of Nate's desk? As Nate & Brian watch their girls work the pole, it's only a matter of time before trouble comes crashing down. Will the club survive?