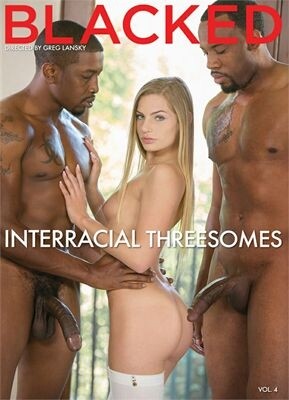 Director Greg Lansky really went out of his way to provide some of the sexiest, fuckworthy babes in this quartet of interracially-minded episodes, with a brace of segments involving one white chick/two dark cocks, while the other pair o' scenes cunt-cern two chicks worshiping one black boner — with not a bad sex slam sequence in the house!
We start off on a strong note, indeed, with 21-year-old San Francisco pixie Sydney Cole having her parent's pad all to herself and making good use of it by having two fellas, Isiah Maxwell and Jovan Jordan, fuck the living shit out of her mouth 'n' pussy. "I've never done this thing before," she convincingly states when the second gent (a friend of the first) shows up in her bedroom, but she proves (thankfully!) what a good tramp she is. Highlights include Cole trying her damndest to suck those massive boners in tandem, and also getting both doggied and mish-probed (what a perfect wiry little figure on Syd!) by both boys.
Next… since Cadence Lux (25, from NY) doesn't have enough dough to fully pay loan sharks Flash Brown and Rob Piper, to whom her hubby owes a running debt, the opportunists decide to take it out in trade by heatedly double-skewering little Lux baby. Lux, like Sydney, is similarly, realistically, taken aback when presented with two penises instead of the X-pected one, but she most certainly rises well to the sleazy occasion; some of her scene's highlights being a marvelously long double BJ (boy, does this bitch go deep, with plenty of saliva, too!) and a serious Cadence back-slammin', her ass cheeks flyin' all over the place, while her eyes regularly roll inside her skull from the sheer size of those monstrous black blades.
Next, in order for her girlfriend, Allie Rae (21), to get revenge on her cheating boyfriend, Dakota James (22) suggests that Rae fuck someone else, who's none other than (the returning and one very lucky SOB) Flash Brown in yet another scorcher. The best moments of this one include the girls ravenously attacking Brown's raging hard-on with their curious mouths, and the girls getting separately, passionately doggied, while the other lass is licking her friend's craphole. Nasty!
And we end with a barnburner, as fair-skinned beauty Lily Rader (22, from Ohio) plays a total submissive (in a, more or less, sequel to a previous Lansky/Blacked.com episode), with our ultra-babe bravely taking on the far-from-subtle Prince Yahshua and Moe Johnson. Both Yahshua and Johnson really give this fine bitch a workout. "You gonna have some fun today," Yahshua promises her, before the two fellas nearly rip her little body apart. Yes, you can tell she's more attracted to Yahshua, but she also digs it when Moe treats her like a piece of meat, pounding her brains out, particularly (as usual!) during doggie style, while heavily slapping her perfect ass cheeks. "Yeah! Fuck me harder!" she pleads to Johnson, who does just that. Yahshua does a fair share of ass-cheek slappin'/slammin', too! The bitch loves it! And don't miss Lily's excellent twin BJ, with plenty of choking sounds and boner-bursting fluids overflowin' everywhere. Yeah!
"Interracial Threesomes 4" is a nuclear title from start to finish, with all six attractive Caucasian sluts offering purely awesome suck/fuck sessions. A must-see!
Synopsis:
BLACKED.com is proud to present Interracial Threesomes Vol. 4. Envisioned by Greg Lansky, this series features the hottest models in incredible interracial threesomes. Gorgeous cover girl Sydney Cole delivers a high-end erotic performance as she takes two guys that she met at the club. Also starring beauties like Cadence Lux, Lily Rader, and Alli Rae and Dakota James. With the high-end production value, breathtaking locations and captivating stories associated with Blacked.com, Interracial Threesomes Vol. 4 will leave you in awe!