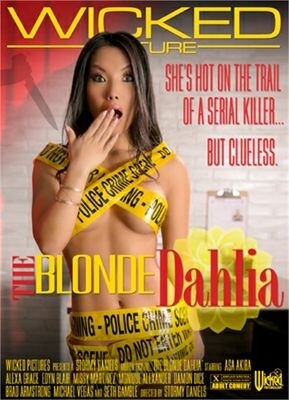 This comedy-mystery has a humorous tone and the actors play it for laughs, starting with Asa Akira as a ditzy police detective who keeps screwing things up, much to the chagrin of her partner, Michael Vegas.
They are investigating the murder of a blonde stripper who has been strangled with a necktie. They tell their boss, police captain Brad Armstrong, that they think it's the work of a serial killer. The two cops head for the club where the victim worked and Michael lets himself enjoy a blowjob from dancer Alexa Grace.
Asa goes home and mistakenly shoots a neighbor, Missy Martinez, who offers to call her boyfriend "if you want to have a threesome." Asa fantasizes about the girls ganging up on Damon Dice, with big-breasted Missy taking the anal.
There's yet another murder, another blonde. Vegas interviews witness Monique Alexander who tells him about fucking boyfriend Seth Gamble while he's trying to watch a ballgame on TV. The killer tries to do in Asa but is stopped comically several times. When he's finally killed (comically) Vegas admits he is hot for his crazy partner and they fuck right there in the club. As usual Asa brings the heat, turning what might be a routine sex scene into a barn-burner.
Synopsis:
Bumbling Detective Brooks (Asa Akira) and her very tightly wound partner (Michael Vegas) are on the trail of a dangerous serial killer. Brooks must go undercover at the local strip club in a last ditch effort to lure out the murderer. The plan works a little too well though, and the hunter becomes the hunted in this hilarious crime comedy.