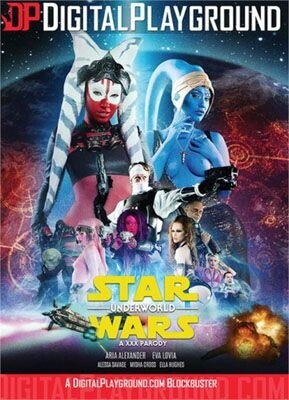 "Star Wars" aficionados/fans/groupies/whatever don't really have a nickname, as do the "Trekkies" (fans of Star Trek). But here's a recent porn parody of the blockbuster sci-fi-movie franchise which true "hardcore" devotees of "Star Wars" will definitely want in their "collection" of paraphernalia. But don't just keep it in the shrink-wrap, guys! Open the fucking DVD, pop it in your player, grease your (seemingly) forgotten willie and whack off to it. That's right. Let off a little o' that nerdy steam, because, with a mixture of foxy and freaky American and European porn starlets, "Star Wars Underworld" is sure to get you on the right track to normal perversion.
Putting aside the rather convoluted plot of "Underworld," you basically have a slightly lavish feature involving non-stop futuristic chases (in dark — hence "Underworld" — prop-crammed porn sets) between good guys and the baddies, with some kidnapping, reconnaissance, murder (by assorted ray guns, which present some pretty cool special effects) thrown in; but it's the fucking and sucking via choice-looking XXX chickies on which yer prick will definitely wanna focus. And if you don't mind female on-screen-cock junkies painted either blue or red, then you'll be fine. We're off to a good start, too, with (red-painted) Aria Alexander (22, from Houston) gagging on limey Luke Hardy's hose, afterhours, in an empty alien bar, with some great pounding action during standing doggie.
Next, marvelously big-assed (with blue body paint) Eva Lovia (27, from South Carolina) gets seriously skewered by Juan Lucho and Monty Don. For some reason, Eva seems less uptight than in previous smut ventures (an X-cellent thing!), making for some arousing Eva sex, particularly with Juan giving her a hard doggie ride on a tabletop, followed by an even more furious one from Monty. She is always a pleasure to watch in action; and check out all o' the boy-batter with which the lads absolutely drench her face. Awesome.
An even more-spirited suck-fuck session follows, as British (red-painted) Alessa Savage (27) nearly pukes on Luke Hardy's cock; yes, that's how deep and rough he's jamming it down her gullet; but she loves it!; and, while this crazed, madly giggling whore gets her vadge heartily stuffed, it's her blowjob which is the main draw in this scene.
Afterwards, one of the best sequences rapidly unfolds (as will seed all over your pud-pounding fist), as Polish ultra-babe Misha Cross (27) gives the very lucky Nick Moreno the best/deepest/nastiest/longest blowjob in the movie, along with her wonderfully large (but not overly so), meaty ass eventually getting heatedly pounded (you even get two doggie salami-slam sessions with Cross), with Ella Hughes (21, from Southampton, England) doing a little snake-sucking; but Ella's really there to provide some sweet pussy to fill Misha's voracious mouth, when it's free from cock, that is, in order to sluttily feast on yeast. And, c'mon, you can never go wrong with the amazing Misha Cross. I just wish the fine bitch did more movies.
Eva Lovia is soon back (as is her beautiful backside!), along with the very animated, passionate Aria Alexander, as the two tramps let Nacho Vidal pound 'em silly, with some horny standing-doggie care of both hussies, but it's the cowgirl position with Lovia that's especially mind-blowing, as Eva's luscious ass cheeks flow every which way. Spoon-a-la-Lovia is similarly boner-bursting.
Lastly, you get a five-way suck-/fuck-athon with Alessa, Aria and Eva getting separately hammered by Luke Hardy and Mark Rose; a highlight being Aria and Eva getting doggied side-by-side, with Alessa doing a fine job of choking on boy-gristle here and there. There's also some volcanic missionary pumping of Eva via Luke's wrinkled English cudgel, with a nasty cream pie cunt-cluding things in Lovia's, semenly, ever-hungry hole.
Political-correctness aside (in other words, the fact that way more men are snuffed in the story by women, as opposed to the reverse), "Star Wars Underworld" is chockfull of cock-filled sexy sirens, in a total of six (not four, five, but six!) scenes. Sorry, there's no anal. But, hey, there aren't any condoms, either. Absolutely worth a looksee — even (or, perhaps, especially!) for "Star Wars" nerds the world over (and under!).
Synopsis:
Upstart bounty hunger Danni Ora has been hired to protect high-profile target Tyleah Daivik -- the insane but gorgeous daughter of a corrupt senator. When a typical night out in Coruscant's underworld goes horribly wrong, there's only one man Danni trusts to track down Tyleah: master bounty hunter Dengar. But will seduction be enough to get him on her side?