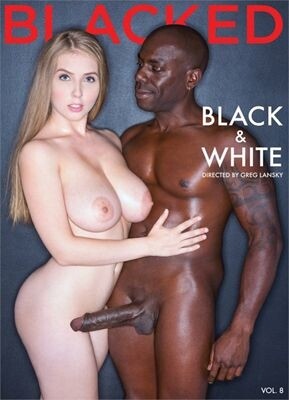 It's yet another terrific quartet of interracial fuck stories from director Greg Lansky and Blacked.com, with high points going to all-natural, buxom porn starlets Lena Paul, Kylie Page and Natasha Nice. Love 'em!
To start the ball(ing) rolling, 23-year-old luscious (at 32DDD-25-36!) Lena Paul finds out that her husband is cheating on her, so, to get even, she invites some well-hung black dude "from the gym" — namely, Jose Lescaf (sounds like a coffee brand, dunnit?) — over to her home to crazily suck and fuck the lucky prick, eventually taking some perverted selfies of her black-salami slammin' and sending 'em, as just desserts, to her disloyal punk of a hubby. And there's absolutely no question why Lena's on the DVD boxcover: She's such a tasty, scrumptious little fox; that pretty face, big ass and those swingin', all-natural boobies. Can't resist her!
Although I felt there was way too much wrist action during her blowjob, it's still fun watching her try to deepthroat Jose's black behemoth. "I need you to go deep," she moans as he bangs her missionary, before she hornily adds, "I'm getting creamy all over your cock," and then, "I'm gonna cream all over your cock." Whoa! And look at Lena's amazing breasts swirl in circles during RCG, while her deliciously large ass mesmerizingly wobbles like mad during cowgirl. Outstanding stuff.
Next, two white hussies — blonde Kylie Page (20, from Oklahoma, with a tasty 34G-25-35 figure) and brown-haired Natasha Nice (28, from France, with her own phenom 36D-27-37 bod) — both cum-pete over a starring spot in a music video with rapper/producer/whatever Prince Yahshua, making for one superb ménage a trois. I'm actually in love with the incredible Kylie, who's both pretty and sexy, with a thoroughly cute, darling nose; wonderfully dark, liquid eyes; and a truly precious smile. Can't get enough o' seeing lil' Kylie getting hammered in any position. It's a joy, too, seeing both girls greedily deepthroating Yahshua's black ladel.
Natasha, however, is definitely the BJ expert here, going bat-shit crazy on cock, and showing Kylie some dick-sucking tricks. Both healthy-chested ladies get titty-fucked, while some especially memorable sections include El Princo jackhammering Kylie, who's on her back groaning and kissing Natasha; and Kylie eating Ms. Nice's anus while the latter is getting doggied (unfortunately, Nice does not return the flavor when Page is herself getting mightily back-slammed). And the fiery scene ends with lil' Princee poppin' off in Nice's mouth, with Natasha generously sharing the still-steamin' sperm with comely Kylie. Terrific stuff!
And the two episodes with Trillium and Jade Jantzen aren't anything to scoff at, either! 22-year-old red-headed Trillium is a babysitter whose boss, Flash Brown, wants to literally pay to fuck her while his wife's away. I particularly adore Trill's meaty, fair-skinned butt, especially when she bounces it on black prick and, in an awesome move, Brown drills the living hell outta Trillium while she's squatting down upon his hefty black snake. I similarly dig how she gets all slick with sweat. Yes!
And, lastly, exotic-looking Jade Jantzen (23, from Dallas, and of Russian/German roots) passionately fucks her rich daddy's chauffeur, the nearly incomprehensible, well-hung Flash Brown. Jade is wearing some kind of hippie-dippie/East-Indian/whatever silly outfit, looking so much better without it (Brown obviously thinks so, too!) during her horny suck/fuck scene. I really like how Jade gags and, eventually, drools on Brown's humongous honker. Additionally, her lovely svelte body makes for even deeper penetration in all positions; an especially rewindable section being Brown's wild jackhammering of Jade, with director Lansky giving us an awesome shot from below of her beautiful, juicy, olive-skinned ass, the lube making her tight anus glisten. Yeowza!
The incredible cover of this DVD (does Lena look amazing or what?!) is all the proof you need of the perverted potency of "Black & White 8." Definitely worth picking up, whacking to, and, yes, keeping for future pud-poundings.
Synopsis:
Blacked is proud to present Black and White #8. Envisioned by Greg Lansky, this series features the hottest models in incredible interracial sex scenes. Gorgeous cover girl Lena Paul delivers a high-end erotic performance as she evens the score with her cheating husband by having an affair of her own. Also starring beauties like Trillium, Jade Jantzen, and Natasha Nice and Kylie Page in iconic scenes of their own. With the high-end production value, breathtaking locations and captivating stories associated with Blacked, Black and White #8 will leave you in awe!