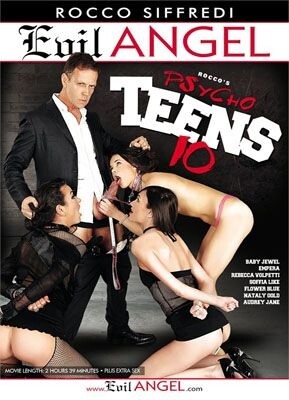 It's salacious sex Euro style with Rocco and friends in this nuclear Evil Angel gonzo, featuring some truly stunning — and slutty! — female foreign bodies in three long (a good thing!) interlewds.
Baby Jewel and Rocco start it off, eventually joined by (and enjoined with!) Nataly Gold and Audrey Jane. A drop-dead gorgeous 22-year-old Hungarian brown-haired babe, Baby is the apple of Roc's cock in this one, with the two of 'em, after he slams her tasty twat good and proper, dominating a brace of (also brown-haired) Russian vixens: 25-year-old Nataly and 35-year-old Audrey. I loved Nataly's kinky black fishnet outfit, which Rocco puts to creative use during her deep, deep, deep cocksucking exercises. Strangely, he has the pretty Audrey blindfolded throughout much of the searing scene, which includes Nataly taking it way up the shitter, the other girls doing ATOGMs, Audrey getting her ass seriously slapped during doggie, and a simulated DP of sorts, as Rocco and Baby, wearing a strap-on, take turns with Nataly's pussy and anus; Roc ultimately spurting on Baby's face. Yeah!
Next, Chris Diamond anally gets it on with Belarusian blonde (awesomely long hair down past her ass) Empera (extraordinarily cute and charming) and Russian brunette Sofia Like. First Diamond seduces Sofia in a large, desolate, very clean outhouse somewhere in Europe. After Sofia gags on his cock, Chris doggies her, standing, against a bunch of new sinks — eventually switching from clit to shit — after which Empera sneaks in and wants in on the fun. She gets in, alright. So does Chris! Empera is a blonde waif with little tits and a bottomless gullet when sucking, or, rather, choking. The three degenerates go to a kind of relaxation room with sofas, but they fuck on a table (go figure). Empera rims the skeletal-looking schmoe.
"You're amaz-ink," she tells him as she rides her tight anus on his prick. There's ATMs, Diamond soon spoon-anals Sofia, who also enjoys her share of ATMs, and both ladies suck the lucky prick to cumpletion. "You have huge," the darling Empera tells Rocco in her adorable accent during an after-suck-fuck interview, "but he guy (she points to Chris) has bigger." "That's challenge now," Rocco comically tells her. "I am now afraid," the precious 'n' slutty Empera then jokes with Rocco. "I'm really afraid." I wanna marry this bitch!
Lastly, Victor Solo plays the rough stepfather of 19-year-old Italian-Albanian Rebecca Volpetti (the only true teen in the whole movie), who doesn't want to go to school, passes out after Solo literally shakes her up, and winds up nastily getting it on with her stepdad and an older (well into her 50s) European female doctor named Flower Blue. There's anal, ATMs, ATOGMs, female-to-female rimming and even a blowbang at the end, as four guys just saunter in — after Solo splats on Flower and Becca, that is — with the four cocks getting plenty o' goo on the gals. Rebecca is really a treat, but so is the older Flower, who may be a bit long in the tooth, but has a great, big, juicy, slappable ass, and is a turn-on to watch having sex because she's so damn civilian-looking.
"Psycho Teens 10" is c(h)ockfull of absolutely nasty sex and, hey, that's what porn is (and definitely always should be!) all about. No condoms here, baby!
Synopsis:
Italian porn god Rocco Siffredi's Rocco's Psycho Teens 10 presents some of Europe's most gorgeous young ladies in insane tales of teenage sluttiness. Three nasty scenes feature the decadent perversion for which the director is famed, including filthy face fucking, anal threesomes, toys and foot worship. Adorable, young Baby Jewel services Rocco's massive meat and helps him dominate sexy models Audrey Jane and Nataly Gold. There's blindfold fun, anal craziness and creamy kissing. Audrey takes a double-penetration via Rocco's dick and Jewel's strap-on dildo! Pale, blonde cutie Empera and tattooed, black-haired beauty Soffia Like enjoy a bathroom three-way with horse-hung boy-toy Chris Diamond. The gorgeous models take turns getting anally reamed and orally worshiping Chris' cock. Victor Solo's Red-haired Rebecca Volpetti faints, so stepdad Victor Solo summons blonde MILF doctor Flower Blue. In a semi-conscious dream state, Rebecca seduces the older woman and her stepdaddy into taboo cock slurping, butt rimming and ass reaming. Finally, four male strangers use each woman's mouth for a sloppy blow bang bukkake!