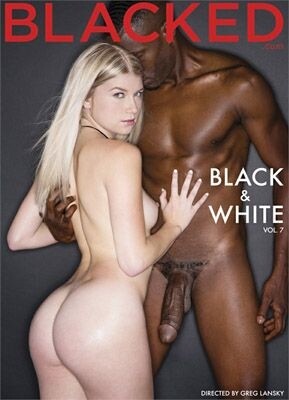 There isn't a bad ebony/ivory pork sequence to which you can beat yer meat in Blacked.com's "Black & White 7," with each white bitch shining in her own fine sucking/fucking fashion.
Blonde beauty Arya Fae has a crush on her brother's friend, played by Jason Brown, eventually getting chummy with him at the poolside, with Jason soon taking the in-heat hussy inside to pay her trap 'n' twat a more-than-friendly visit. Arya provides terrific eye contact while blowing and balling, including some equally fantastic doggie action, as Jason grabs her by the hips and wails away, keeping his hands outta the way and, thus, letting us fully imbibe Arya's fine buttocks and the sizzling back-slam action.
Golden-haired Florida hottie Raylin Ann lives in a condo complex with her dad, who is always in the way of her seduction of neighbor/big-dicked brothah Rob Piper, so she pretends she's sick so pops can do down to get some aspirin so she can, in turn, get her mouth and pussy popped by Piper's prick. Our girl displays excellent sucking/choking action, for a good long time, too. It's also fun seeing her little tits bounce during reverse cowgirl. And, like Jason, Piper does a laudable job during doggie, not getting his hands in the way (for the most part), giving us a clear view of Raylin's tight little ass getting fully hammered. Kudos, Rob.
Next, Aidra Fox cunt-tinues a carnal characterization from a previous Blacked.com episode, here showing her total whorishness as a money-hungry slut who hooks up with any well-paying sugar daddy; this time with sugar papas Flash Brown and Jovan Jordan. We get some excellent throat-gagging double-suck action with Aidra, including plenty of saliva, and I liked the fact that 21-year-old Aidra keeps on her garters, which deliciously augment her juicy butt cheeks. Not only do both gents take a crack at doggie, but Aidra also likes her beautiful booty slapped during cowgirl, and it's fantastic, too, when Flash creampies her during missionary.
Lastly, we have 24-year-old, ultra-sexy Lyra Law, who gets caught breaking into the home of her next-door neighbor, played by Rob Piper, who works it out with her by 'punishing' Lyra with his cock. It's exceptionally volcanic material, trust us. Lyra's an amazing spinner. She kisses. She groans. She sucks deeply, producing stringers and even bubbles! Don't miss her doing cowgirl, too, as Rob lets Lyra work her bouncy tukus all over his raging hard-on. He creampies her in the same position, by the way, with the marvelously depraved young bitch lapping up said jizz. Love her!
"Black & White 7" rocks from start to finish, with each of the four featured babes being shameless tramps you'd, most ass-uredly, love to marry for all the right — and wrong! — reasons.
Synopsis:
From the award-winning studio Blacked comes Black and White #7. Featuring masterfully performed interracial scenes directed by visionary creator Greg Lansky. Shot in beautiful 4K with a priority on top notch cinematography, hot storylines and intense sex, Black and White #7 is a true visual experience.