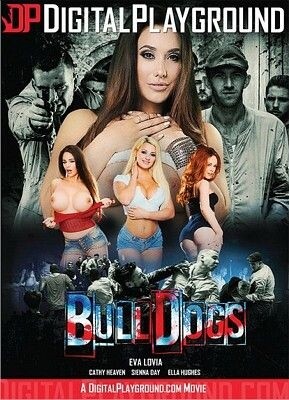 A sex film about soccer thugs — and a very entertaining one it is. Shot in England with male talent whose authentic accents cry out for subtitles, it rocks with real-deal energy embellished with hot sex.
"The Bulldogs" are hooligans who get into brawls with rival gangs after football games. The opening knock-down drag-out is broken up by Eva Lovia with a big stick. She then fucks red-haired Chad Rockwell in several near-acrobatic positions.
The Bulldogs think Eva's just a groupie. "We are fucking legends and you are a badass bitch," gang leader Danny D. tells her. In fact she's a "Yank copper" who's trying to nab a crooked realtor who's using the gang brawls to devalue local property. The Bulldogs don't want to hear that they're being used.
Danny has heavy-duty anal sex with big-breasted Hungarian star Cathy Heaven. Eva does girl-girl with lovely redhead Ella Hughes as the gang guys watch and make comments — a novel staging for a lesbian scene. Beautiful Brit blonde Sienna Day takes on bruisers Luke Hardy and Marc Rose with a DP and a double facial. Finally, Eva nabs the crook and she and Danny have a love fuck. And the Bulldogs retain their self-respect.
Synopsis:
The Bulldogs, a notorious soccer hooligan gang, is involved in some shady business. When Eva, a sexy investigative journalist, moves in from out of town, her roommate Danny tries to protect her. He doesn't want he to know the dangerous truth behind why the gang is terrorizing the neighborhood. Little does he know that Eva has some secrets of her own...