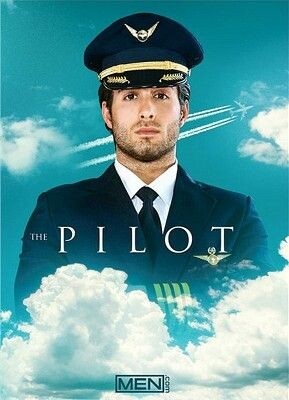 A three-scene, high-def showcase for dreamboat Diego Sans that pairs him with three studs, trim and smooth to scruffily handsome, who happily help themselves to their gorgeous topman.
Sans is a jetsetting pilot and B-roll shows him, in uniform, striding through an airport. He logs each port of call's best piece of ass in his pilot's log, starting with Wesley Woods. Most of their sexplay goes down in a circular shower. Woods is loaded with natural charisma and he's an intense, highly vocal sex partner. Sans grabs him roughly by his mohawk and moans with pleasure as Woods rides his boner. They move to a spot in front of a fireplace and then to bed before Sans fires off a volley of a cumshot that splatters Woods across his chest and face.
Sans appealingly speaks a bit of French when abroad before welcoming Asher Hawk, whom he describes as a treat who delivers "the best blowjob in all of France." That's quite a declaration. Hawk is slim and handsome and fully engaged as he and Sans make love. It's another intense fuck session but, as billed, the oral interplay is spirited.
The third and final scene features burly, affable and furry Dirk Caber as Sans' fellow pilot and boyfriend. He grumbles and growls with obvious relish as they strip off and he feasts on his lover's cock and ass. Whereas Sans takes the lead in the first pair of encounters, here he submits to the older, confident Caber and follows his lead, even as a topman. Caber chuckles with enjoyment as Sans douses hairy chest and chin with cum.
Smoothly directed for Men.com with customary polish by Marc MacNamara, one of the industry's technically accomplished helmers.
Synopsis:
Diego Sans is a world traveler, constantly on the move from city-to-city, from ass-to-ass. Hes just landed in NYC, where he is relentless in his ferocious deep pounding of Wesley Woodss tight round ass after loosening him up with his hungry tongue. Watch him deep throat and pound the night away.
The Pilot has landed in Paris. Consulting his pilot log of best asses in the city, he is ready to dock his meat rod deep into Asher Hawks back hanger. After the best blow job in all of France, Diego pounds Ashers hole as he moans with pleasure until both men cum in ecstasy.
The Pilot has touched down again. This time Diego Sans plows fellow aviation worker Dirk Caber to exhaustion, his thick veiny cock working both men into a fucking frenzy.